Overview
Ecuador's desire to become a global exporter of copper coincides with increased Chinese demand for and investment in copper mining. Both copper mines in Ecuador are owned by the same Chinese company. The inauguration of mine construction and activity has led to negative environmental damage and forced relocations of indigenous communities at both mines.
Despite these similarities, the Mirador mine is operational while the San Carlos-Panantza mine is indefinitely delayed. The only observable difference between the two is that CRCC-Tongguan, the Chinese company involved, has significantly invested in the communities around the Mirador mine. In contrast, community relations at the San Carlos-Panantza mine have been marred by violence.
---
Activity
This article examines one operational and one proposed copper mine in Ecuador. Part two of this series discusses Chinese-financed copper mines in Peru.
In this study, we focus on the interplay between China's geopolitical ambitions, industrial supply chains, and copper mining activity in South America. Copper is an important mineral used in the manufacturing of electrical equipment, building materials, and industrial machinery. Open pit mining is currently the most widely used technique, extracting copper ore near the Earth's surface rather than digging underground. However, open pit mining can have harmful environmental impacts. Tailings dams, which cause tailings ponds, frequently accompany copper mining projects; they store toxic waste extracts that can seep into bedrock or other bodies of water if not disposed of properly and are reported to negatively impact local communities around the world.
In 2020, China consumed 54% of global refined copper and imported almost $50 billion USD worth of copper and copper products, making it by far the largest importer of copper. China's rising copper demand parallels the country's focus on migrating to renewable energy sources, electric vehicle production, and other high-tech manufacturing. Copper demand in China is anticipated by academics to increase threefold from 2016 to 2050.
China's desire to diversify, secure, and increase its supply of copper has led to investments through the development of mines in the Andean copper belt. This strong desire for a secure copper supply chain is visible in the Andean copper mines of Peru and Ecuador.  Despite indefinite delays in construction and operation of some mines, China remains heavily financially involved in these mines, indicating a strong desire for copper.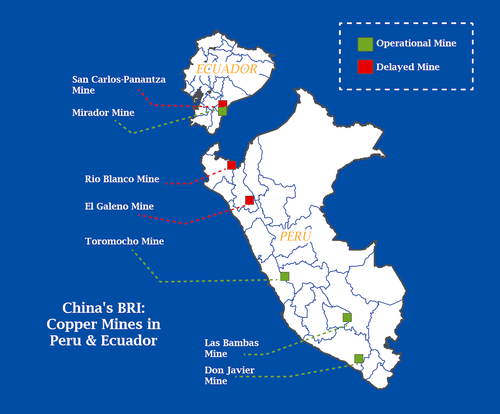 Methodology
This study utilized text-based data, commercial imagery, and land cover data to analyze all mines with publicly identified information regarding Chinese engagement. The land cover data is from the European Space Agency Sentinel-2 satellite. Supplied with this study are downloadable spreadsheets that excelBRI Categorization Matrixmark the studied Belt and Road Initiative projects as official, informal, or private Chinese money and excelStructured Data of Minesother structured observations.  Locational files such as kmlLocation and Annotation of MinesKMZ and shpLocation and Annotation of MinesShapefiles are available for download that were mappable.
Ecuador's relationship with China & Copper Mining Industry
Ecuador seeks to establish itself as a main exporter of minerals, starting with increasing the amount of copper exported annually. With the goal of being able to export copper at an industrial scale and generate billions of dollars in revenue, copper extraction and production is being led by Chinese enterprises investing in the country. In 2019, Ecuador exported $267,000 USD worth of refined copper to China, 5% of Ecuador's total exports, leaving substantial room for export growth.
In Ecuador, the two Chinese-owned projects are the San Carlos-Panantza and Mirador mines. Both mines are currently owned and managed by Corriente Resources, a subsidiary of the China Railway Construction Corporation-Tongguan (CRCC-Tongguan) conglomerate. The two mines are located in the Cordillera del Condor mountain range, approximately 45 km apart. This area is the territory of the indigenous Shuar community and is rich in biodiversity. Both sites faced opposition from local indigenous communities, yet in Mirador mine's case, CRCC-Tongguan was able to override resistance and begin mining operations.
San Carlos-Panantza: Indigenous Protests Successfully Delayed the Mine
The San Carlos and Panantza copper mines commonly referred to as a singular concession due to their proximity (within 5 km), are two open pit porphyry copper/gold deposits. Since 2010, CRCC-Tongguan has owned the mine.
The San Carlos-Panantza mine has faced frequent resistance from local residents and indigenous communities, claiming that the government failed to adequately consult them about projects. The turmoil is largely between the Ecuadorian government and indigenous communities, not Chinese companies, and the government's lack of communication about the role that "mining should play in the development of the economy." Resistance began in August 2016 when 32 Shuar community members of San Marcos of the Nankint community in the parish of Santiago de Panantza were displaced to make room for mine construction activities by ExplorCobres S.A. (EXSA), a subsidiary of CRCC-Tongguan (See Figure 2 overview). The Ecuadorian police carried out this forced removal of the community. The community retaliated by partially invading the mine's territory and destroying a nearby EXSA camp that caused the San Carlos-Panantza mine to temporarily shut down. Resistance continued following the initial trigger as the local community filed actions in Ecuador's courts. The Shuar people filed a lawsuit following the forced relocation, demanding EXSA drop the mining project and provide reparations for the displacement of the indigenous community. A provincial court dropped the case in 2019. The violent resistance combined with the court battle led to EXSA halting the project indefinitely in 2018.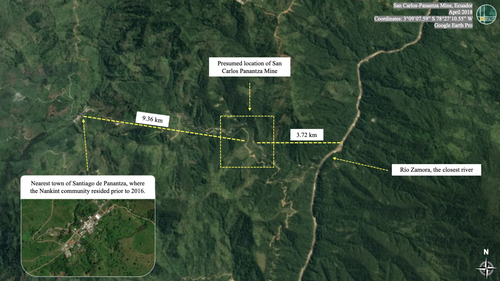 Violent resistance did not cease with EXSA's 2018 delay announcement. On March 28 2020, EXSA's Esperanza camp, which is within San Carlos-Panantza, was intentionally set on fire and ransacked by the Nankint community. Today, on top of the ongoing COVID-19 pandemic, EXSA has expressed that the conditions on the ground are not suitable to resume work.
Commercial imagery confirms that no mining activity is present at the site as of February 2022 (evident in Figure 2). Satellite detection of land utilization in the area surrounding the San Carlos-Panantza mine further confirms this analysis. The land cover/use data represented in Figure 3 confirms that the location selected for the mine remained undeveloped as of 2020 with minimal developed areas.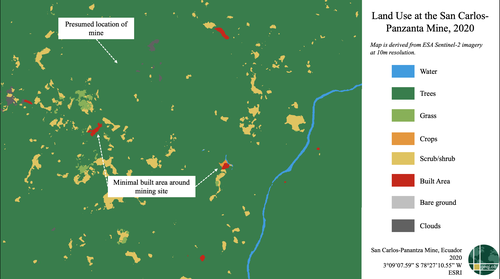 China remains financially involved in the San Carlos-Panantza mine, but the violent actions of the Ecuadorian police and the local community combined with the legal battle have made it difficult for EXSA to develop the mine. By fulfilling communities' requests to halt mines, Ecuador could lose ground in generating revenue from those mines. Moreover, China's exports would be reduced as well.
The sentiments expressed at the San Carlos-Panantza mine are reflective of the rest of the country. Ecuador's electoral court held a referendum in February 2021 where voters expressed their opinions on whether or not mining should be outlawed near rivers that run through urban areas because of fears of environmental degradation. In the city of Cuenca, located near the San Carlos-Panantza mine, 80% of citizens voted to prohibit mining to protect their environment and water sources. If the Ecuadorian government wishes to fulfill its goal of increasing copper export capacity, it needs to improve its work on getting buy-in from local populations.
Mirador Mine: Operational Mine in Spite of Indigenous Protests
Mirador mine is the first open pit mine and one of the largest mines in Ecuador. In 2019, it was projected to produce nearly 94,000 tons of copper annually. The Chinese CRCC-Tongguan consortium acquired Mirador mine in May 2010, then two years later in March 2012, signed a contract with the Ecuadorian government to begin extraction from the mine. However, evidence of mining activity is not visible in commercial imagery until December 2014, as shown in Figure 4. The first imagery evidence of the tailings pond is in 2020 (also shown in Figure 4). The appearance of the tailings pond indicates that the extraction of copper began on schedule following the 2019 construction of supporting infrastructure.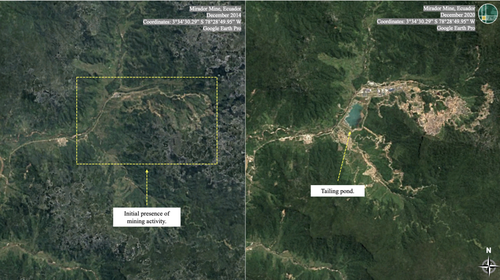 Beginning in 2009, residents of the Shuar community were relocated to make room for Mirador mine's tailings pond. Sixteen families were forcibly removed in the middle of the night by mine workers and the Ecuadorian police. This forced relocation mirrors the events at the San Carlos-Panantza mine, however, CRCC-Tongguan was successful in overcoming indigenous attempts to halt mining operations at Mirador mine. 
Continued resistance from local communities is rooted in concerns about the health impacts and hazards that mining poses to their community. Water downstream from the Mirador mine in the Zamora River is reported by indigenous activists to be murky and brown, which they attribute to activity at the Mirador mine. On commercial imagery, shown in Figure 5, a clear change in the color of the river is visible over time from a dark blue-green prior to mining activity to a light tan in 2021 nominally indicating a deterioration of water quality. However, this light tan color is visible in water both upstream and downstream from the mine. This evidence of upstream water pollution suggests that there is environmental degradation in the area that is not necessarily attributable to the mine. While there is significant literature about copper mines' negative impact on local water sources, commercial imagery analysis cannot effectively make an assessment on whether the Mirador mine is contributing to water pollution of the Zamora river.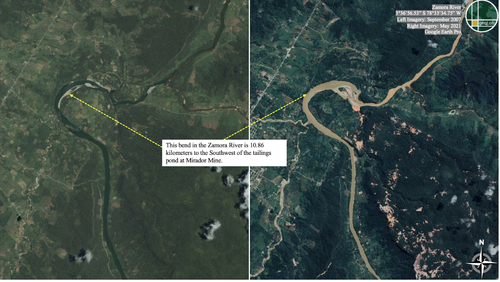 A partially contributing factor to continued mining operations, in the face of resistance between the two Ecuadorian mines, coincides with EcuaCorriente's involvement in the local communities impacted by the Mirador mine. According to mining industry reporting and EcuaCorriente-supplied interviews and information, the mine has generated over 12,400 jobs, directly and indirectly. On its Facebook page, EcuaCorriente consistently posts graphics touting job creation at Mirador mine and links these hiring practices to EcuaCorriente's social commitment to the Zamora Chinchipe province. Posts on this page frequently feature hashtags such as #MiningWithResponsibility and #MiningIsDevelopment, which are also present on the San Carlos Panantza mine's page. Furthermore, EcuaCorriente makes an annual financial investment in communities adjacent to Mirador mine to train local Ecuadorian employees in business practices with the stated goal of promoting a relationship of "friendly cooperation" between China and Ecuador.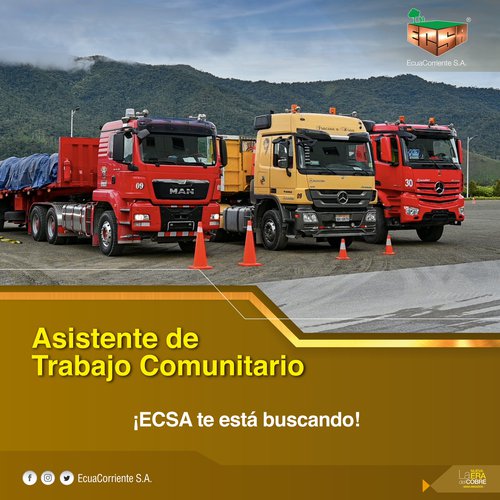 In August 2021, Ecuador's President Guillermo Lasso decided, through an executive decree, to speed up strategic mining projects with the goal of Ecuador becoming a copper powerhouse. Ecuador is trending in this direction as mining exports in 2021 increased 99% from 2020, according to Ministry of Energy reports. Foreign investors, including Chinese enterprises, will play a driving role in determining Ecuador's ability to realize this goal. China itself is incentivized to invest in Ecuador's copper industry as China attempts to grow and diversify its sources of copper. In 2020, NASDAQ found that copper produced at the Mirador mine was exported directly to China. However, for foreign investors to successfully aid Ecuador in its copper exporting goals, the state must work with local populations. As shown by the San Carlos-Panantza mine example, local communities have the power to prevent mine construction. 
Feb 01, 2021

Cuenca votes to prohibit mining in the surrounding areas

---

Dec 01, 2020

First appearance of tailings pond at Mirador mine

---

Mar 01, 2020

Esperanza Camp, part of the San Carlos-Panantza mine, intentionally set on fire

---

Jul 01, 2019

Commercial production begins at the Mirador mine

---

Feb 01, 2019

Shuar community files lawsuit against EXSA regarding San Carlos-Panantza mine

---

Jan 01, 2019

Provincial court drops the Shuar's community San Carlos-Panantza mine lawsuit

---

Jan 01, 2018

EXSA claims to halt mining operations indefinitely at San Carlos-Panantza mine

---

Jan 01, 2018

Ecuador joins China's Belt and Road Initiative

---

Nov 01, 2016

Shuar people invade the San Carlos-Panantza mine in an effort to halt operations

---

Aug 01, 2016

Nankint community forcibly removed from Santiago de Panantza

---

Dec 01, 2014

Initial signs and stages of mining activity present at the Mirador mine

---

Sep 01, 2013

China's Belt and Road Initiative begins

---

Mar 01, 2012

EcuaCorriente signs a contract to begin extraction at the Mirador mine

---

May 01, 2010

China Railway Construction Corporation-Tongguan acquires the Mirador mine

---

Jan 01, 2010

China Railway Construction Corporation-Tongguan obtains San Carlos-Panantza mine

---

Jan 01, 1994

Mirador mine discovered

---
---
Look Ahead
Despite community resistance and environmental concerns, China is pushing forward and continues to expand investments in copper in Ecuador. Mirador's success, in contrast to San Carlos', indicates that a more community-centered approach may have a higher likelihood of success.
Things to Watch
Will China expand its presence by investing in more copper mines in the Andes?
Will the proposed/delayed mines become operational? Or, will local communities continue to effectively resist mine construction?
How will China continue to fulfill its growing demand for foreign copper?
Part 2, see our analysis on mines in Peru.
---
---