Overview
The Montenegrin-Chinese Belt Road Initiative (BRI) loan agreement of 2014 was expected to foster economic growth in Montenegro through the creation of a highway from Bar, Montenegro to Belgrade, Serbia. However, the high costs associated with this project ballooned Montenegro's debt to more than 100% of its GDP in late 2020.
This created not only a precarious economic position for the Balkan country but a risk of key government assets falling into the control of Chinese state-owned companies. The BRI loan agreement stipulates that a default on loan payments would allow Chinese state banks to pursue legal recourse that places the ownership of Montenegrin state-owned assets as recompense.
---
Activity
Although a loan payment default appears unlikely in the near future, several Montenegrin government-owned and government-backed assets could be vulnerable to a transfer of ownership should default ever occur. This analysis will survey what assets could be placed into Chinese control, and of these which are most likely to be targeted by Chinese interests in the event that Montenegro defaults on its loans. This alternative outcomes analysis (or red cell analysis) can serve as a warning function to one of the more aggressive BRI loan cases with a unique asset transfer stipulation in the agreement.
Financial and Legal Overview of Montenegro's Loans
Montenegro's financial situation is currently stable as of March 2023 with a Debt-to-GDP ratio of 68.2%, below the World Bank's threshold of 77% where debt can negatively impact economic growth. This is a significant decrease from 103.5% in December 2020, indicating that the country has made some progress in reducing its national debt. However, Montenegro's economy is small, with a GDP of $5.86 billion in 2021, making it vulnerable to external shocks.
A portion of vulnerability centers around the $944 million loan from China's institutional Export-Import Bank (Exim) with an initial 2% interest rate that was later hedged in July 2021 with help from French and U.S. Banks to 0.88%. Montenegro made its second loan payment of $32.8 million in early 2022 which included the new arrangement with U.S. and French banking help. The new loan structure from hedging helps reduce some risk and is projected to save Montenegro $8.8 million annually. However, the overall size of the debt and repayment is still a concern to banking and other economic observers, for example, at the International Monetary Fund and World Bank, especially when viewed through the prism of Montenegro's pending European Union (EU) status and concerns over China's influence in the Balkans. The EU prefers to see a debt-to-GDP ratio below 60% for financial health considerations.
At any rate, the original legal agreement that Montenegro signed with China when taking out the loan includes a clause that could lead to the transfer of state assets if the country fails to repay the loan.
The relevant text in the pdfOriginal Montenegro-China Loan Agreementlegal agreement states:
8.1 The Borrower hereby irrevocably waives any immunity on the grounds of sovereign or otherwise for itself or its property, except for those assets dedicated to military or diplomatic purpose, in connection with any arbitration proceeding pursuant to Article 8.5 hereof or with the enforcement of any arbitral award pursuant to Article 8.5 hereof.
8.4 This Agreement as well as the rights and obligations of the parties hereunder shall be governed by and construed in accordance with the laws of China.
8.5 Any dispute arising out of or in connection with this Agreement shall be resolved through friendly consultation. If no settlement can be reached through such consultation, each party shall have the right to submit such dispute to the China International Economic and Trade Arbitration Commission (CIETAC) for arbitration.
Clause 8.5, known as the "waiver of immunity" clause, stipulates that should Montenegro fail to repay the agreed amount back to China, the Montenegrin ownership of government-owned and government-backed sites and assets could be revoked by a Chinese arbitration court. Afterward, the ownership of these assets could be sold directly to Chinese state-owned firms.
Methodology
The methodology employed for this study involved a two-phase approach. First, we used commercial imagery to locate and qualitatively analyze Montenegro's critical infrastructure, which is relatively concentrated around certain geographical areas due to the country's small size. We assessed each site for factors such as size, condition, and the goods or services it provides. In addition, we confirmed that these sites were indeed state-owned or substantially backed with state ownership through open source resources.
Our state-owned and state-backed assets list is unique because some previous media reporting on China's "land seizure" scenarios in Montenegro used general language describing "land" or "property" where the reader could interpret private property seizures as part of the default. The BRI loan was inked with Montenegro's government and Montenegro has private property rights and protections so Chinese seizure of citizen-held private property seems outside the scope of the deal or worst-case scenarios.
Key assumptions
A key assumption in our assets list extends the meaning of state "property" or "assets" to mean government-owned or substantially government-backed enterprises, property, assets, and sites in Montenegro. This expanded language helps with alternative outcomes or red cell analysis of potential Chinese levers as the term "property" is not clearly defined in the original loan document and could mean government equities, securities, and positions as "property" in worst-case scenarios. Finally, Montenegro is a small country where literal government "property" (defined as real estate such as government buildings) may not be independently sufficient as collateral for such a large loan.
In the second phase, we researched China's past BRI partner nations and their critical infrastructure. This allowed us to identify China's historical interests in critical industries and infrastructure, which we cross-compared with current Montenegrin capabilities to generate a list of sites that would be of potentially high interest to China if Montenegro were to default on the loan.
From this final list (Figure 1), we used commercial imagery and open-source data and reporting to assess the economic importance of these critical sites to Montenegro and their potential relevance to Chinese interests. This involved analyzing factors such as the volume of goods or services provided, the nature of the infrastructure, and any existing or potential connections to Chinese markets. By examining these factors, we were able to gain a more nuanced understanding of the potential impact of ownership transfers to Chinese state-owned companies on Montenegro's economy and its strategic position within the region. The reader can also fly to all the assets under study kmlMontenegro Assetsfrom the KMZ file in the Data Sources section. An shpMontenegro AssetsESRI Shapefile is also available for the primary locations.
Montenegro's Government-backed Infrastructure
Figure 1. Major government-backed infrastructure in Montenegro. Source: Original Work

| Name | Asset Type | Municipality | Coordinates |
| --- | --- | --- | --- |
| Port of Bar | Port | Bar | 42.098, 19.089 |
| Port of Kotor | Port | Kotor | 42.425, 18.767 |
| A1 Highway | Road | Multiple | 42.569, 19.390 |
| Montecargo | Rail Depot | Podgorica | 42.431, 19.268 |
| Željeznička infrastruktura Crne Gore (ZICG) | Rail Infrastructure | Podgorica | 42.435, 19.268 |
| ŽELJEZNIČKI PREVOZ CRNE GORE (ZPCG) | Railway Transport | Podgorica | 42.432, 19.269 |
| Podgorica Airport | Airport | Podgorica | 42.399, 19.257 |
| Berane Airport | Airport | Berane | 42.835, 19.861 |
| Tivat Airport | Airport | Tivat | 42.405, 18.725 |
| Bauxite Mine* | Mine | Nikšić | 42.762, 19.082 |
| Piva Hydro Plant | Electricity | Plužine | 43.272, 18.842 |
| Perucica Hydro Plant | Electricity | Nikšić | 42.671, 18.995 |
| Pljevlja Coal-fired Plant & Coal Mine | Electricity & Coal Mining | Pljevlja | 43.340, 19.370 |
| Komarnica Hydro Plant (planned) | Electricity | Šavnik (45 km upstream of Piva HPP) | 42.988, 19.068 |
| Gvozd Wind Farm (planned) | Electricity | Nikšić | 42.791, 18.943 |
| *Bauxite mining is private sector. See section below for complete breakdown of government backing of all other enterprises. | | | |
Key Assumption: State-backed Enterprise Sourcing
A standard operating model in Montenegro for major infrastructure is to charter a joint-stock company with the government taking a majority position, often a vast majority of the shares, in the enterprise.
For example, ZPCG is tasked with rail transport services for passengers and rolling stock in Montenegro, and the government holds 89% of the equity in the rail enterprise according to information on ZPCG's corporate website. In Montenegro, joint-stock company names are often noted with an "AD" after the enterprise name such as ZPCG AD. "AD" for "Akcionarsko Društvo" translates to "joint-stock company." The "CG" ending in many of the enterprise names stands for "Crne Gor," which is the local name for Montenegro.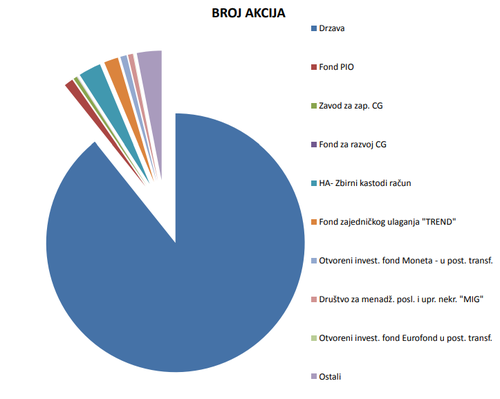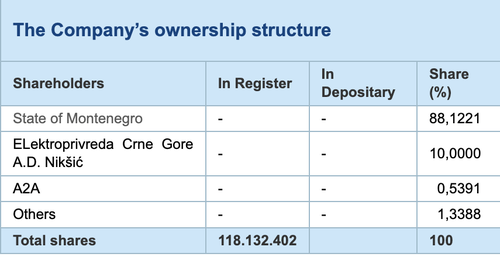 The roads are government assets, especially the Bar-Boljare Highway Section as it is a named entity in the original loan document signed by the government of Montenegro with China.
As for the bauxite mines in Montenegro, Uniprom is the primary enterprise that focuses on bauxite mining and aluminum production. According to the Uniprom website, the entire company is 100% owned by Mr. Veselin Pejović the founder and director of the Uniprom group. However, the Uniprom website also states that a sub-group, Uniprom Metal LLC Nikšić, is the "largest state-owned national mining corporation and the biggest national exporter of ore." A state-backed asset nested under a "100%" overall private claim could be fragmentary, contradictory, or out of date. We are simply stringing together the most complete picture regarding state-backed assets from the literature available online. Regardless of the sub-group listing, we still assume the mining enterprise is mostly in private hands, which is distinct from other assets where the government is heavily invested in the enterprise.
Finally, we analyze a coal-fired power plant later in the text run by EPCG. There is a mining operation, Rudnik uglja Pljevlja, under EPCG control. The coal mine's official website (last updated in 2018) states that EPCG is the sole shareholder in the company. As mentioned above, 88% of EPCG shares are owned by the Montenegrin government.
Montenegrin State-backed Transportation Infrastructure
Ports
Port of Bar
Montenegro has one primary cargo port, the Port of Bar. This port is connected to the country's capital, Podgorica, by several major transportation systems, including the country's major highways and railways. While there are other ports within the country, this is Montenegro's only cargo port and is a critical economic asset on which China is likely to focus its efforts.
China's investment in Montenegro's infrastructure would likely be part of a broader effort to expand its economic presence in the Balkans and strengthen its position in the region. From the Chinese perspective, owning a strategic cargo port in Montenegro would secure a central connection point between land and maritime trade throughout the Balkans.
The Balkans region, with its diverse economies and proximity to both Western Europe and Asia, presents opportunities for trade, investment, and market expansion. By securing control over the Port of Bar, China would strengthen its position as a key player in the Balkans, enabling Chinese companies to leverage trade routes and infrastructure to access and influence. Additionally, the Balkans region is rich in mineral resources, those nearest to the Port of Bar include aluminum-containing bauxite and lithium-containing jadarite sites.
This is in line with historical trends in China's strategic goals, where it has shown a strong interest in gaining control of key ports around the world, particularly those that are strategically located along major trade routes. This includes Sri Lanka, where China's investment in the port of Hambantota gave it a key foothold in the Indian Ocean. Additionally in Greece, its investment in the port of Piraeus allows it to access key European markets in the Mediterranean.
China would also likely look to expand and increase capacity at the port to further its economic influence and improve the efficiency of its trade routes. From imagery analysis, it appears the port is well maintained and active with some potential for capacity increases as Figure 2 illustrates.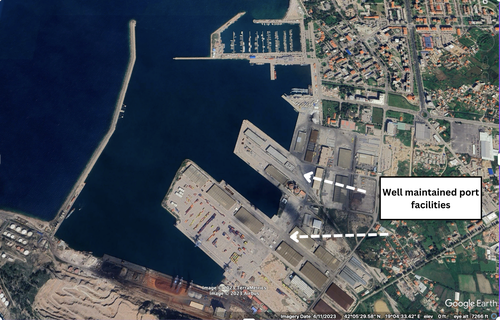 Port of Kotor
The Port of Kotor serves both commercial and tourist traffic with an emphasis on tourism (Figure 3 and 4). According to the official Port of Kotor website, the number of yachts and tourists has steadily increased from 2001 to 2013 (see bar charts of increases).
Parts of the city and bay (small island fortifications and ancient structures) of Kotor are classified and protected by the UN as heritage sites. The United Nations Educational, Scientific and Cultural Organization (UNESCO) describes parts of Kotor as:
The Outstanding Universal Value of the Cultural-Historical Region of Kotor is embodied in the quality of the architecture in its fortified and open cities, settlements, palaces and monastic ensembles, and their harmonious integration to the cultivated terraced landscape on the slopes of high rocky hills. The Natural and Cultural-Historical Region of Kotor bears unique testimony to the exceptionally important role that it played over centuries in the spreading of Mediterranean cultures into the Balkans.
Parts of Kotor with UN-protected status could complicate any Chinese attempts at asset transfer from default but since our research shows the port itself to be a government-back asset, we included the Port of Kotor in our alternative outcomes analysis.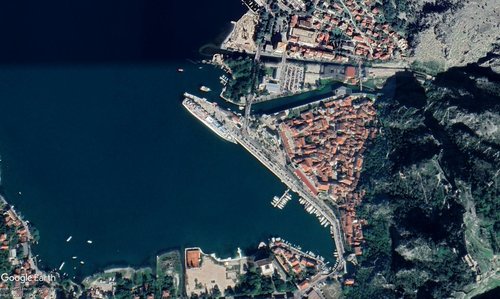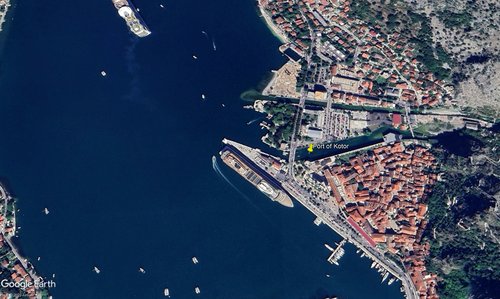 Railways and Railway Depots
There are three main rails, the Belgrade-Bar railway, the Nikšić-Podgorica railway, and the Podgorica-Shkodër, throughout Montenegro. As Figure 5 illustrates, they connect through the capital, Podgorica. These are single-rail, multi-purpose lines, transporting passengers and cargo along the same routes.
While all these lines can transport both cargo and passengers, Figure 6 shows the Nikšić-Podgorica has the added ability to transport bauxite from the mining areas in Nikšić to Podgorica.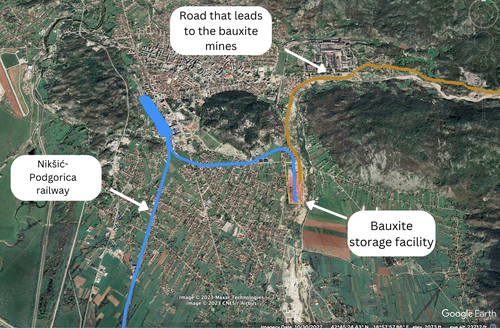 The Port of Bar is a critical economic node in Montenegro (Figure 7) with rail spurs connecting it to other major economic and industry categories such as mining and petrochemicals.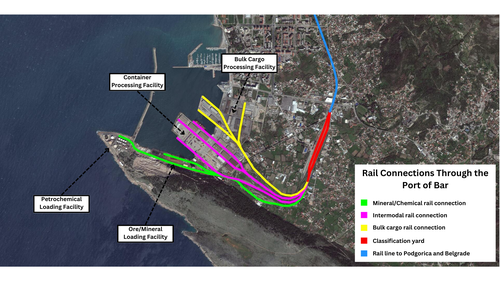 Furthermore, as Figure 8 illustrates, the classification yard at the port of Bar, which is a flat yard, has eight receiving tracks where freight cars can be moved and attached to different trains depending on the cargo's final destination. While the number of receiving tracks varies depending on the available space, Montenegro's eight receiving tracks for the classification yard make it comparable in size to classification yards in Serbia and Bosnia and Herzegovina.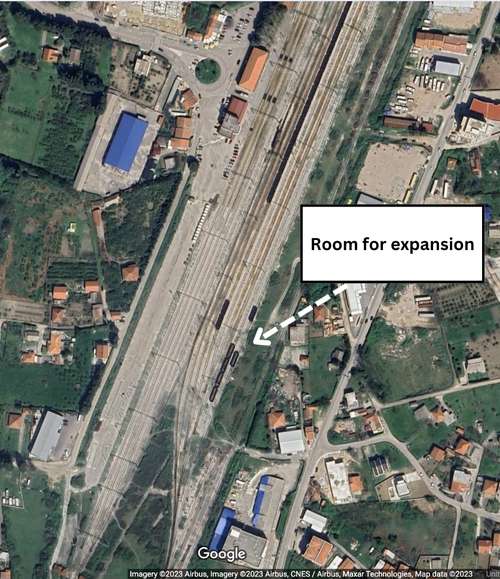 However, as the image in Figure 8 shows, spatial constraints could prevent a large expansion of the rail yard. With this in mind, China's acquisition of Montenegrin railways could benefit the intrastate and interstate movement of commercial goods and materials of interest to China.
Roads
Since the loan's inception between the Exim Bank of China and the Montenegrin government in 2014, the construction of the A1 highway has been slow to progress. The highway is yet to be finished with large segments still under construction according to open reporting from early 2023, volunteer mapping service edits from OpenStreetMap (Figure 9), and commercial imagery from November 2022 (latest available imagery, Figure 10).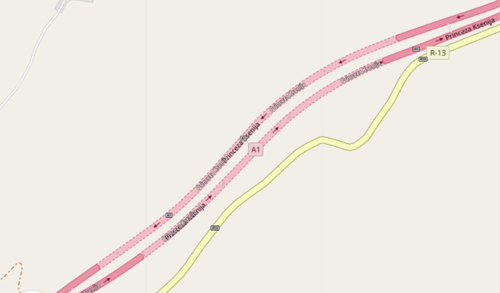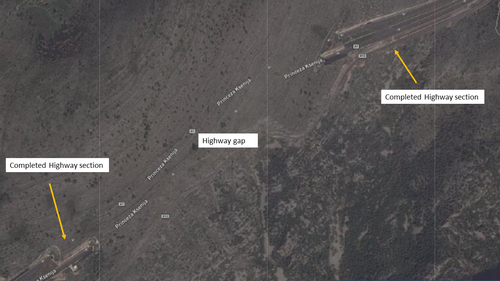 According to Radio Free Europe/Radio Liberty reporting, the highway, once completed, will span sixty-three kilometers between Montenegro and Serbia; however, only forty-one kilometers have been completed as of January 2023. Sources such as Euronews report that the project is going to include forty bridges and ninety tunnels. The A1-highway project will improve both commercial and private travel; however, this highway is not fully accessible to the public as shown by imagery and confirmed with open reporting.
In the case of Montenegro defaulting on the debt, China may consider the full acquisition of the A1 highway. Chinese control of this highway would strengthen China's economic influence in the region. While the government of Montenegro lists approximately thirty border crossing checkpoints between its neighboring countries online, China's possible control of the A1 highway would ensure a stable and constant medium for moving goods from Serbia and the greater Balkans region through Montenegro.

Furthermore, if China were to acquire this highway it would have a sizable transport asset in a NATO country. Controlling a major transportation artery could be leveraged by China to assist Russia. In 2022, China and Russia stated they have a "no limits" relationship. Russian scenarios are central to NATO's strategic thinking.
Airports
The Montenegrin government currently owns and operates seven airports: Podgorica (TGD), Tivat (TIV), and the Berane Airport (BFE) are some of the most active and well-maintained, which would make them the most desirable from a Chinese perspective if a BRI loan default were to occur.
Situated near the capital of Montenegro, the Podgorica Airport's size and passenger activity marks it as the largest in the country. The Podgorica airport accommodates large aircraft and substantial air travel with two large runways, one measuring 8,200 feet and the other at 7,200 feet. Besides commercial travel, imagery analysis shows the open storage of military aircraft (Figure 11). Podgorica, also known as Golubovci Airbase, is a dual-use facility. The BRI loan states that military facilities and lands are exempt from transfer but the dual-use nature of Podgorica with the commercial side of the airport as the primary focus could create a gray area of transfer to China where partial military activity is present.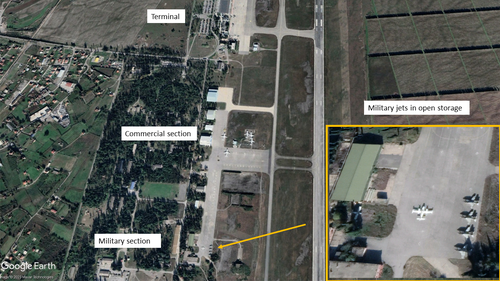 Tivat Airport, with facilities similar to the Podgorica airport (see Figure 12), benefits from its proximity to vacation and tourist destinations such as Porto Montenegro, according to TripAdvisor. According to the National Tourism Organization of Montenegro, fluctuating tourist traffic, which increases in June, peaks in August, and tapers out in September, presents an opportunity to increase cargo transportation during the winter months.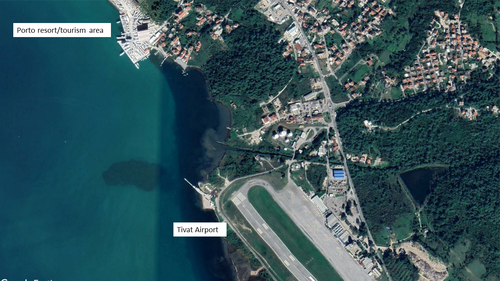 Berane Airport, which is currently a general aviation airport, in early 2023 Montenegro signed a memorandum of cooperation with Maik Steinmüller, the founder and CEO of Elite Private Jet Service. This memorandum of cooperation contains the promise of forty-five million euros to revitalize the airport and an additional thirty million euros to work on nano-solar technology within the airport. This investment to modernize the current airport terminal and improve power technology could significantly improve the Berane airport and its commercial aviation capabilities. The Montenegrin government's interest in modernization and expanding airport services beyond passenger travel could interest China. However, the facilities at the Berane Airport, such as its single runway measuring 6,200 ft, its small terminal, and its lack of covered hangers for planes, may take years to improve even with the investment from Maik Steinmüller and Elite Private Jet Service, making the Berane airport a modest object of acquisition by China but with expansion potential (Figure 13).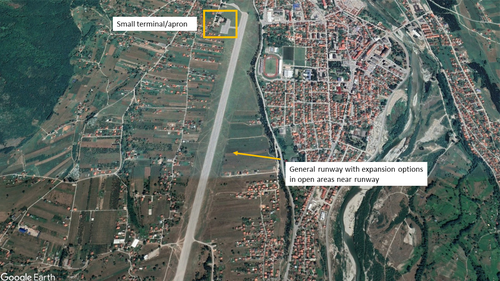 The focus and infrastructure for all three airports are currently oriented toward passenger traffic rather than bulk cargo operations. However, the commercial advantage gained through controlling a nation's airports, especially a dual-use airport such as Podgorica, may be advantageous for possible Chinese acquisition.
Bauxite Mines
Montenegro's top-grossing industries are metallic ore exploitation and refinement, with the country's top exports being copper and raw aluminum, according to The Observatory of Economic Complexity, a data visualization site for international trade data. Specifically, the 2019 Minerals Yearbook from the United States Geological Survey states that Montenegro's annual capacity for producing aluminum ore, bauxite, is 1,000 metric tons, making it the country's second-largest export, according to the Observatory of Economic Complexity. Bauxite has been found across Montenegro, with the largest concentration in the Niksic municipality. Currently, mining firm UNIPROM Metali DOO Niksic, a privately-owned Montenegrin company, performs most of the exploitation and processing of this ore in the Niksic municipality.
While the China-Montenegro loan agreement does not directly state or imply China can acquire privately owned property in the case of a loan default, acquiring government-backed rail lines and highways surrounding and servicing the mines could affect (positively or negatively) the flow of bauxite via Chinese-controlled transportation infrastructure. Since 2002, China's reliance on global bauxite imports has steadily increased, reaching 125 million tons in 2022. The Observatory of Economic Complexity states that China is one of the top consumers of Montenegrin bauxite, with approximately 2.7 million USD exported to China in 2021. More simply, the bauxite mines themselves are not at risk of Chinese acquisition from potential debt default; however, based on China's bauxite consumption trends, China could indirectly assert leverage over Nicksic mining via asset transfer of Montenegrin rail lines and highways, which are state-backed assets (Figure 14).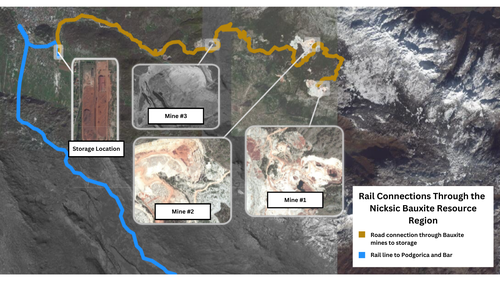 Energy Infrastructure
China is known for investing in fossil fuel projects designed to bolster its economy and expand its foreign influence. However, China has recently supplemented these foreign fossil fuel ventures with green energy projects. China's Made in China 2025 plan called for enhancing "green and lean manufacturing capabilities" and reducing "the consumption of fossil fuels." President Xi Jinping pledged, in 2021, not to invest any more funds into coal plants overseas. This declaration, while of questionable long-term validity, illustrates an interest in greener energy alternatives.
Along with this 2021 promise, China unveiled its "Green Silk Road" plan in 2022 to make the Belt and Road initiative more environmentally conscious. Examples of the "Green Silk Road" can be seen in a 2023 Chinese investment in a wind power plant in Luderitz, Namibia. An announcement for a floating solar power plant over the Kariba Dam in Zimbabwe also aligns with China's declared green energy efforts. Montenegro's primary sources of electricity come from hydro-power plants, which presents an opportunity for China to expand its economic interests and influence abroad through the acquisition of Montenegro's "green" energy infrastructure (not coal).
Elektroprivreda Crne Gore AD (EPCG) is a state-owned (heavily government-backed) energy producer in Montenegro. The Montenegrin government owns approximately 90% of EPCG's shares. However, from 2021 to 2022, there has been a decline in EPCG profits from $53.2 million to $4.4 million. Along with declining revenue during this time, EPCG has also faced an increase in operating costs. However, future "green" investments could turn things around financially. Montenegro utility officials publicly stated that new construction projects, such as the Komarnica Hydro power plant, are expected to begin in 2023, along with a wind farm in Gvozd, Montenegro, that is expected to start operations in 2023.
A possible acquisition of Hydro Power Plant (HPP) Piva or HPP Perucica, two major Montenegrin power plants, by China would align with China's "greener" aspirations. Green and/or renewable energy investments often generate positive press. In addition to publicity, the opportunity to own a large share of Montenegro's energy portfolio from power plant acquisitions would substantially benefit the Chinese. According to the EPCG website, HPP Piva accounted for 28.50% of the country's electric energy production in 2018. According to the same website, HPP Perucica made up a larger percentage, accounting for 30% of electric energy production the same year. Therefore, acquiring either plant would transfer almost a third of Montenegro's electric energy production to China. If both were transferred, approximately 60% of the market would be under Chinese interests.
The acquisition of the Pljevlja coal-fired thermal power plant could also be an appealing choice for a possible loan default. Pljevlja is not "green" per se, but China and Montenegro entered into a deal to revamp Pljevlja and reduce emissions. Reuters reported that this project between Montenegro's EPCG and the Chinese company, Dongfang Electric International Corporation, would begin in 2022. However, no subsequent news about the project has been reported. The revenue China would receive from Pljevelja's electrical production would likely be more significant than either HPP Piva's or HPP Perucica's due to the plant's larger output. According to EPCG's website, in 2018, the Pljevlja power plant accounted for 41.40% of Montenegro's energy production.
In addition to the coal-fired plant, Rudnik uglja Pljevlja is a supporting coal mining operation near the plant that would also be an appealing choice for Chinese acquisition (Figure 15). According to Rudnik uglja Pljevlja's website, 100% of the enterprise is backed by EPCG. As mentioned above, approximately 90% of EPCG shares are owned by the Montenegrin government.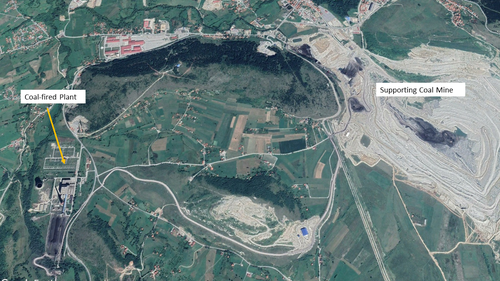 Similarly, the Gvozd wind power park could be another enticing option for Chinese acquisition from loan default. The wind park aligns with China's green energy promise, thus acquiring it would likely positively boost China's public image for upholding its promise. Furthermore, acquiring the wind park could also provide an economic benefit. Even though the wind park falls below both HPP Piva and HPP Perucica in electrical production at 54 MW, the positive global press that could result from acquiring a wind power park and the influence China would gain through having a hand in Montenegro's energy portfolio makes the Gvozd wind park desirable.
Contributor Note
The alternative analysis Montenegro asset transfer scenario was initially proposed and worked under an agreement with Utah State University and undergraduate student Logan Bolan (2022), and then transferred and completed by the listed authors from the University of Mississippi.
Aug 09, 2021

Hedge loans from French and US banks helps but overall risk from Chinese loan is still high and "kicked down the road"

"It is not clear when construction of what is probably Europe's most expensive highway will be complete," says Nina

Marković Khaze of the Department of Security Studies and Criminology at Macquarie University in Sydney. While the hedge deal leaves Montenegro with more wriggle room and keeps its head above water, according to Luka Šterić from the Belgrade Centre of Security Policy, the problem has simply been kicked down the road. "It only decreases the immediate danger of a debt crisis," he says. "Concerning how large the loan is, as well as several delays that we have already seen with the completion of the first section, the highway construction is a long-term, expensive and unpredictable project that will loom over Montenegro for decades to come."


---

Jul 11, 2021

US and French Banks help restructure loan

Brought the interest rate to 0.88% from original 2%

---

Dec 15, 2020

Montenegro Debt reaches 103.5% of GDP

The data reached an all-time high of 103.5 % in Dec 2020 and a record low of 40.7 % in Dec 2010 (4 years prior to

the China BRI loan for more context of the debt weight from the loan.


---

Oct 30, 2014

BRI Loan between China and Montenegro signed

"October 30, 2014" is the date on the original loan document.

---
---
Look Ahead
As China's Belt Road Initiative (BRI) approaches its 10-year anniversary, one of the more aggressive BRI "debt trap" and early cases in Montenegro is still worth monitoring. The land transfer stipulation in the loan is peculiar and has been underreported by media and business outlets regarding specific details on what the default could look like. This alternative analysis (or red cell analysis) is unique from that perspective. It can also help think through the financial and foreign influence balancing act regarding Montenegro's desire to move closer to the European Union (EU). China's general influence in the region and the BRI loan itself are prominent factors in EU alignment.
Things to Watch
halt of A-1 Highway construction
deficit spending to complete the highway project
expansion or modernization of Montenegrin government-owned or backed infrastructure
progress on "green" energy investments in Montenegro such as Gvozd wind farm
EU financial benchmarks for membership
---
---