Overview
The Dara Sakor Airport in Koh Kong, Cambodia is a project under China's Belt and Road Initiative (BRI). The airport contains a 3,300-meter-long runway near the Cambodian coast. Since 2019, Pentagon planners and others in the strategic commentary space have expressed concerns that Dara Sakor could serve as a dual-use Chinese military airfield (see notes). As of May 2023, GEOINT shows no military infrastructure is present. Open evidence suggests Dara Sakor may be another overly grand BRI project.
---
Activity
Since 2019, there have been numerous open defense and international affairs-focused reports (official and unofficial) detailing the potential for dual-use capability at the airfield by serving as a potential staging ground for Chinese military aircraft. Ream Naval Base is approximately 50 miles away (straight flight path) and the placement of an airport in deep coastal jungle seems out of the ordinary, especially when Chinese money is backing both port and airfield. However, there is little GEOINT evidence of dual-use or a military look-and-feel to the airport outside of a runway sufficient for emergency use by military aircraft at this time. Rather, the evidence as it currently stands, points to another overly grand and economically questionable BRI investment. This report will add to the previous corpus of open reporting on the topic by providing the most up-to-date GEOINT reporting on activity and developments through May 2023.
Background
Financial Context
The airfield at Dara Sakor is part of a larger BRI funding effort in Cambodia. The airport construction costs alone are estimated at over $350 million USD. Cambodian officials associated with the project suggest that Dara Sakor will accommodate millions of annual visitors.
China has invested over $3.8 billion USD in funding projects around Dara Sakor such as hotels, casinos, and a deep-water port. Outside of Dara Sakor, from 2012-2017, China invested $15 billion USD in other BRI projects across the country. According to reporting from the US-China Institute at the University of Southern California, BRI projects have added over 20,000 jobs in Cambodia. In 2022, Chinese BRI funding in Cambodia increased by 371% from 2021, according to Chinese academic reporting.
Controversy from the Start
The Tianjin Union Development Group (UDG), more specifically its parent company Tianjin Wanlong Group, signed a 99-year lease with the Cambodian government for access to the land at Dara Sakor in 2008, which stirred controversy locally and internationally for closed bidding and granting land to a foreign company beyond the limits of Cambodian law. In 2020, the US Treasury Department sanctioned UDG for intimidating local residents and destroying their property to clear the land for the Dara Sakor project.
Facility Description
Runway Length
The runway at Dara Sakor is approximately 3,300 meters long, making it the longest runway in Cambodia. For context, the runway at Phnom Penh International Airport is approximately 2,900 meters, Siem Reap International Airport approximately 2,600 meters, and Sihanoukville International Airport approximately 3,000 meters. These measurements were gathered from Google Earth measurement tools set over publicly available imagery.
Given the length of Dara Sakor's runway, it can host some of the world's largest civilian aircraft, including the Boeing 777 and Airbus A340, according to aviation industry sources.
Cleared Land
According to Cambodian construction industry sources from February 2023, Dara Sakor has over 1,000 hectares reserved for future development. Part of the available land for use is opposite the main terminal (Figure 1). While it cannot be determined what facilities will be constructed on said land in the future, it is possible that this area could underlie hangar space or an apron.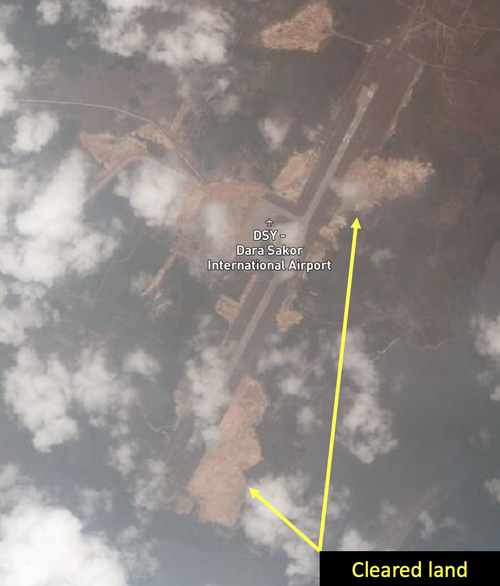 Hangar space: To date, no hangar construction has been observed. It is possible that hangars and maintenance facilities could be constructed in the future on the cleared land.
Apron: An apron is a defined area at an airfield that is used for loading/unloading passengers and cargo, refueling, aircraft parking, and maintenance. In its current form, Dara Sakor possesses one apron which is near the main terminal. It is possible that the cleared land could underlie an apron for military aircraft in the future, but there is no GEOINT evidence of separate apron construction nor have military aircraft been observed at Dara Sakor.
In its current form, Dara Sakor does not possess the appearance of a military facility. Military infrastructure often has a concrete look to it because extra concrete and shelters guard against attack. Hardened aircraft shelters and ammunition storage areas are also common at military bases. This concrete look is not consistent with the current facilities at Dara Sakor. For comparison, Figure 2 shows fighter shelters at Kashi Air Base, a People's Liberation Army Air Force (PLAAF) fighter base in China. Figure 3 shows hardened facilities at Subi Reef, an artificial island constructed by China in the Spratly Islands.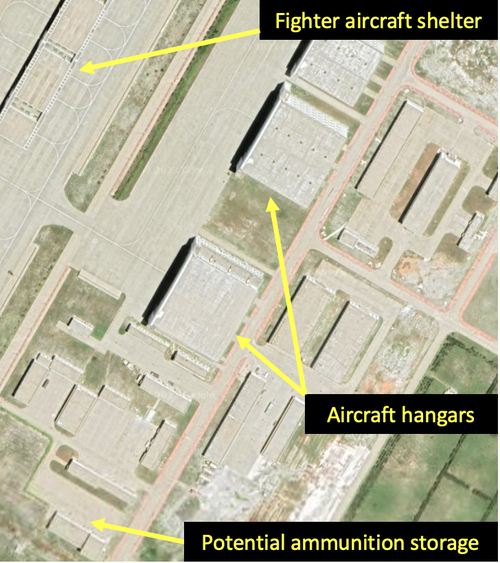 Tactical Air Navigation (TACAN)
Dara Sakor contains a TACAN radar system that can assist military aircraft with en-route navigation and precision-based approaches to landing zones. However, civilian aircraft can still utilize a component of TACAN, known as the Distance Measuring Equipment (DME) system to provide information on the distance an aircraft is from the ground station at the airfield. The presence of a TACAN alone is not hard evidence of future military use (Figure 4), especially when space-based navigation such as GPS, GLONASS, and China's BeiDou can replace TACAN usage. Even though military aircraft do possess the capability to utilize this radar system at civilian airports to attain more precise information not used by commercial aircraft, this factor alone is not strong enough to determine a dual-use airfield.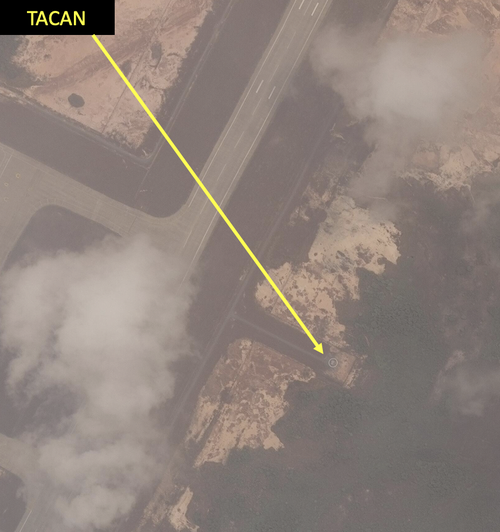 Judgments
Runway: Based on Dara Sakor's runway length, China could use the runway to launch and land a variety of aircraft in its inventory. Here are three PLAAF aircraft, representing a good cross-section of aircraft types in their inventory, that could land at Dara Sakor given the amount of runway required to perform take-offs and landings:
Chengdu J-10 fighter. According to Aerospaceweb.org, a non-profit site operated by engineers and scientists in the aerospace field, under normal conditions, the J-10 needs approximately 350 meters to take off and approximately 200 meters to land.
Xian H-6 long-range bomber. According to Aerospaceweb.org, The H-6 requires 2,100 meters to take off and 1,540 meters to land.
Xian Y-20 military transport aircraft. According to Aerospaceweb.org, under normal conditions, the Y-20 requires 770 meters to take off and 1,000 meters to land.
Cambodia's provincial governor suggests airport operations will begin in mid-2023. However, based on GEOINT analysis and other open evidence, it is unlikely that airport operations will commence by this date. Figures 5 and 6 show on-going construction activity and the presence of construction equipment from April 10, 2023 (Figure 5) to as recent as May 8, 2023 (Figure 6). The airfield is still under significant construction that will likely be delayed further between May and October due to the Cambodian rainy season, which could push out full operations well in 2024.
Summary of delay analysis
1) According to imagery analysis as of May 8, 2023, no fuel storage facility has been installed. 2) Based on comparative analysis, the parking area is not complete. 3) Dara Sakor flight information is missing from most airline, travel site, and international database searches.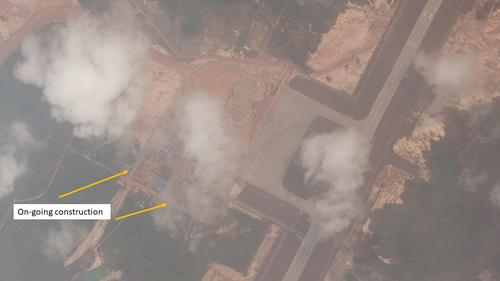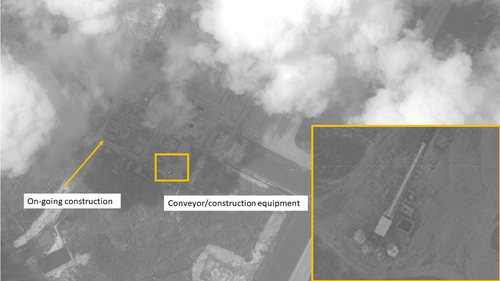 Fuel storage: Figures 7 - 9 show the most likely area for fuel storage at the airfield which was still under construction as of May 8, 2023. It is positioned in an isolated area away from visitors and parked aircraft. In the event of an explosion, it would minimize collateral damage and keep spillage contained in a relatively isolated area. Airfield operations are unlikely to commence in the near future because no fencing around the potential fuel storage area was observed as of May 9, 2023 (Figure 7) which is common once fuel areas become operational. Separately, the total size of this area is similar to the size of the fuel storage facility at Mattala Rajapaksa International Airport in Sri Lanka. The dimensions for Mattala's fuel storage can be seen in Figure 9.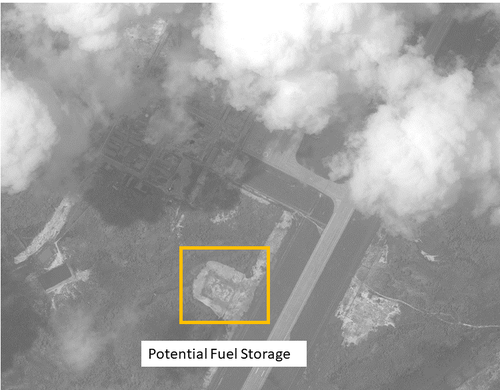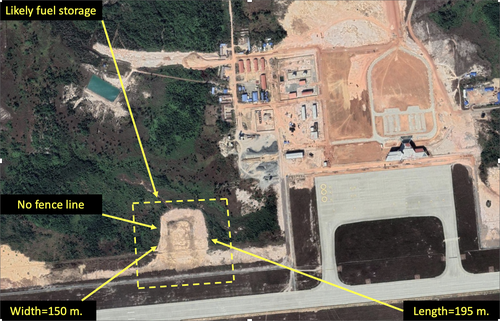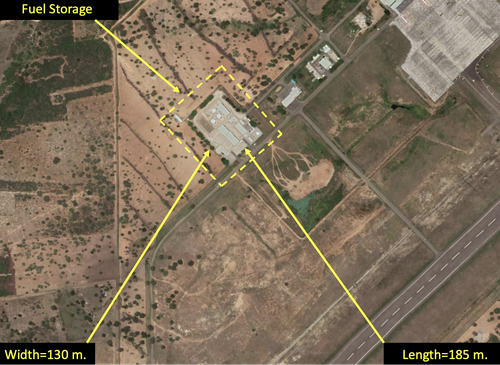 Parking: Imagery analysis suggests that the parking area is still under construction (Figure 10). For example, in addition to large areas of dirt still present, light posts for nighttime illumination have not been installed, which is common when parking lots are completed (see more below compared to Mattala airport in Sri Lanka). Moreover, some of the casinos and hotels in the vicinity are still under construction with one breaking ground as recently as February 2023 with completion targets in 2025. Based on GEOINT analysis and other factors, to-and-from transport, especially from buses, is not fully operational either.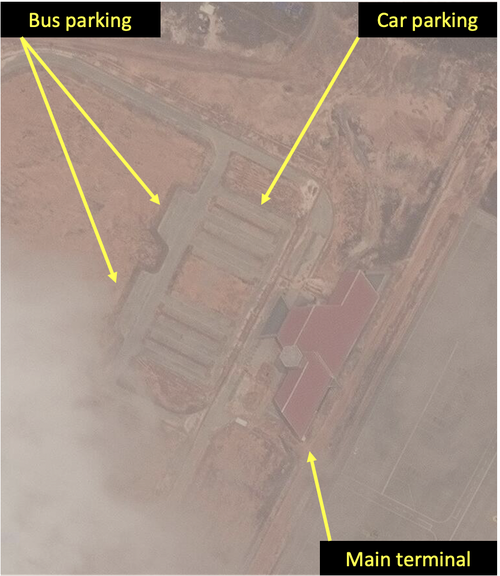 Lack of Cambodian airline: It was announced that Lanmei Airlines, a Cambodian airline, "has been approved to use the airport as an airline base" according to a Cambodian civil aviation official in May 2021. However, the airline has not yet announced scheduled flights to Dara Sakor, nor does "Dara Sakor" appear as an origination or destination flight area from Lanmei's website.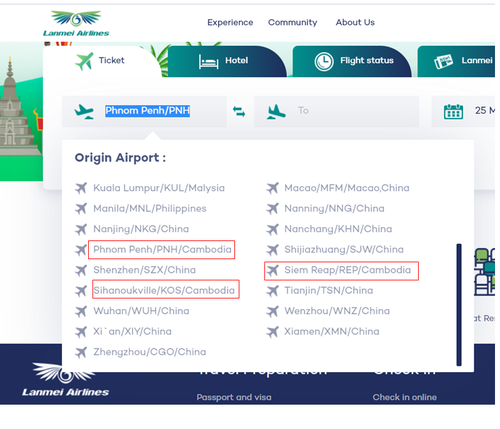 According to Airways Magazine, a publication focused on commercial aviation developments, commercial airlines normally announce future routes months in advance. In the case of Dara Sakor, however, based on open searches, there are currently no major airlines that have announced their intent to conduct routine flight schedules to the airfield. In addition to general announcements, the term "Dara Sakor" returns little information from Expedia.com, a major travel site, compared to searches of "Phnom Penh" or "Siem Reap" or "Sihanoukville" which returns many results. It is possible that several airlines could be conducting market research to determine the costs and benefits of adding a route to Dara Sakor. The spokesman for Cambodia's State Secretariat of Civil Aviation, Sin Chansereyvutha, said in May 2021 that airlines, in addition to Lanmei, will soon begin applying to use Dara Sakor.

Lanmei Airlines uses Phnom Penh International Airport as its main hub. Moreover, Lanmei currently operates nonstop flights from Tianjin, China to Siem Reap and Sihanoukville, Cambodia. It is possible that Dara Sakor could be a recipient of a route from Tianjin since the Tianjin UDG is funding both the airport and resorts at Dara Sakor. Moreover, Lanmei currently operates flights from Phnom Penh to Hong Kong. According to the Center for Strategic and International Studies (CSIS), several CCP-backed property development groups are based in Hong Kong because of the high-yield bond market, which provides these firms with more liquidity.
Air China. Given the substantial BRI funding coming from Beijing, this airline is also a contender for a route to Dara Sakor for business trips from Beijing.
Comparison to Mattala Rajapaksa International Airport, Sri Lanka
Mattala Rajapaksa International Airport in Sri Lanka serves as a strong comparison with Dara Sakor based on overall country size and similar economic objectives. Even the configuration of the airport at Mattala is similar to the configuration at Dara Sakor. Mattala Airport was also a recipient of Chinese investment. It appears that both airfields are overly ambitious BRI projects.
Beijing spent $342 million USD on Mattala under the Belt and Road Initiative. Mattala was also slated to host over one million annual visitors. However, according to open reporting in 2021, Mattala only received approximately 26,000 travelers.
Mattala took approximately four years to complete. From a Google Earth Pro timeline analysis, construction began circa April 2010 and appeared completed in January 2014. There are other similarities between Mattala and Dara Sakor:
Runway length: The runway at Mattala is approximately 3,400 meters long, similar to Dara Sakor's length of 3,300 meters. The world's largest aircraft, the Antonov An-225 Mriya, landed at Mattala on April 18, 2018. Sri Lankan media stated that the aircraft landed at Mattala for re-fueling purposes and quickly departed the airfield.
Resorts and economic development: Mattala was backed by major Chinese BRI investments to encourage tourism and economic growth. The region was provided with a seaport, oil refinery, hotels, roads, rail networks, and an airfield.
Lack of commercial airlines conducting regularly scheduled flights: Mattala previously served several airlines. However, all international airlines ceased services to Mattala in 2018 because of the low demand from passengers.
Airport parking: The parking lots and terminal layout at Mattala (Figure 11) appear similar to the construction goals at Dara Sakor (Figure 12). The rate of usage at Dara Sakor is unknown at this time but the precedent set by under-utilization at Mattala can serve as a useful guide. As mentioned above, the presence of light posts often signals parking lot completion. For example, the parking facilities at Mattala have three light posts installed for nighttime illumination. As of April 2023, Dara Sakor lacks light posts, which among other things such as a large presence of dirt, suggest further delays in operations (Figure 12).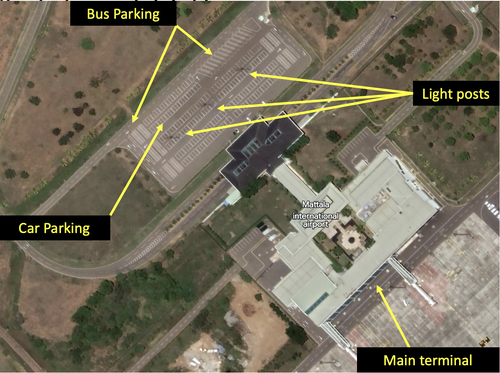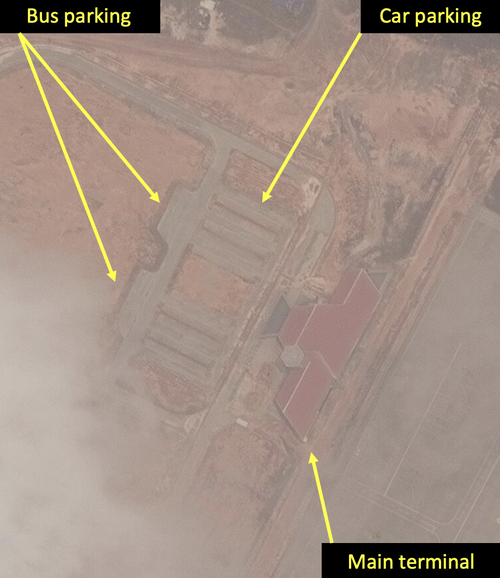 Contrast: Dara Sakor and military facilities
Figure 13 shows a screenshot of aerial drone footage over Dara Sakor Airfield in 2020. Although taken during the height of COVID, the construction status/progress shown in the video is similar to today's trends. Dara Sakor has a green resort "look and feel" rather than a hardened and concrete military "look and feel."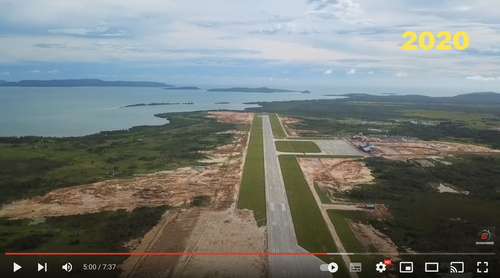 To contrast Dara Sakor's green resort look with the concrete look of a military outpost, see Figure 14. This is the Calderon Reef in the Spratly Islands where China has constructed military outposts since 2016. The infrastructure at Calderon has distinct concrete and hardened characteristics that define its overall "look and feel." The military concrete look can also be seen at Kashi Airbase (Figure 2 above) and Subi Reef (Figure 3 above). This does not suggest that Dara Sakor cannot support Chinese military aircraft in emergency use or high-tension situations, but Dara Sakor does lack the grey and concrete look of a military base.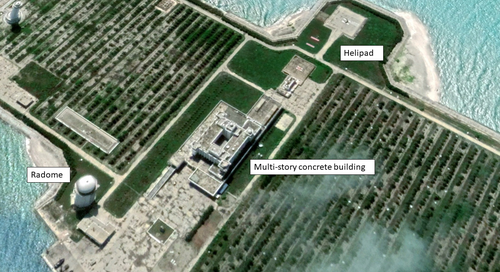 Dara Sakor has an open access appearance to it at this time. Civilian airports that host military components often fence off or secure the military portions of the base from the civilian parts for increased security. As noted in the Dara Sakor imagery throughout this report, there is no cordoned-off or fenced-off look to the airport at this time. This is a general characteristic, not a hard "rule," but it does provide additional context to the limited military infrastructure argument presented throughout this report.
Strategic Scenario
If Dara Sakor did serve a dual-use purpose, it could assist the PLAAF with conducting aerial patrols over the Malacca Strait. China currently has no aerial or naval patrol authorities in the region. Therefore, the PRC realizes that in a military conflict, the Strait could be used as a chokepoint by the US. Seventy-five percent of China's imported oil flows through the Strait. Any blockade could cause serious damage to the PLA and the Chinese economy more broadly.
Notes from Overview Section (sample of articles noting concerns at Dara Sakor)
May 15, 2023

Koh Kong Governor announces additional delays for airfield operations

There were additional flight trials that must be conducted before airfield operations commence. It was stated that

developers at the airfield need more time to finish construction.


---

Feb 22, 2023

Governor of Koh Kong Province states that construction at the airfield is "100% complete"

The Governor stated that construction was complete at Dara Sakor. He mentioned that airfield operations will commence

in mid-2023 and that no more delays will occur.


---

Apr 19, 2022

Dara Sakor conducts flight testing

Flight testing began on April 19, 2022. This consisted of testing and measuring previously-installed equipment that

ensures it is safe for civilian use.


---

May 13, 2021

Lanmei Airlines approved to use Dara Sakor

The Cambodian State Secretariat of Civil Aviation announced that Lanmei Airlines was formally approved to utilize

the facilities at Dara Sakor. The State Secretariat announced at the same time that other airlines will soon apply.


---

Mar 11, 2020

World Health Organization declares COVID-19 pandemic

The decision by the WHO forced construction and projects all across the globe to halt progress. Dara Sakor was no

different.


---

Jun 01, 2018

Construction begins at Dara Sakor International Airport

Construction at Dara Sakor in June of 2018. It has been under construction since this date.

---

May 09, 2008

Tianjin Union Development Group leases land at Dara Sakor

The Cambodian government approved a 99-year lease for land at Dara Sakor. The total land covered in the lease was

approximately 90,000 acres. The lease violated Cambodian law, which only permits for the lease of no more than 10,000 acres.


---
---
Look Ahead
Overall construction and operation at Dara Sakor is behind schedule. There is still active construction ongoing as of May 2023. The runway can accommodate most aircraft in China's inventory but there are few signs of a military angle to Dara Sakor at this time.
Things to Watch
Are military aircraft present at Dara Sakor?
Watch for hardened or concrete military-looking features.
Look for formal announcements from airlines servicing Dara Sakor. Will it under-perform like Mattala in Sri Lanka?
Watch future hospitality industry construction and activity at Dara Sakor.
---
---