Overview
Expansion of copper mining is driving economic growth in Peru, which coincides with increased Chinese demand and investment in copper mining. Chinese involvement in Peru's mining sector varies by project and is often obfuscated through intermediary company involvement in mine acquisition or construction.
China has five mining investments in Peruvian copper: three are operational and two are delayed from local community resistance. Construction and operations at several mines have led to environmental degradation and forced community relocation.
---
Activity
A unique GEOINT finding from this study shows that the Don Javier mine is operational when the Peruvian government labels it in the study phase.
China strives to diversify its copper supply as domestic demand continues to increase. This desire, combined with the concentration of copper located in South America's Andes mountains, is driving increased Chinese investment in Peruvian and Ecuadorian copper mines.
Copper is an important mineral used in electrical equipment, construction, and industrial machinery. Open pit mining is currently the most widely used technique, extracting copper ore near the Earth's surface rather than digging underground. However, open pit mining can have harmful environmental impacts. Tailings dams frequently accompany copper mining projects. They can store toxic waste extracts that seep into the bedrock or other bodies of water if not disposed of properly. Tailings dam impacts have also been reported to negatively impact local communities.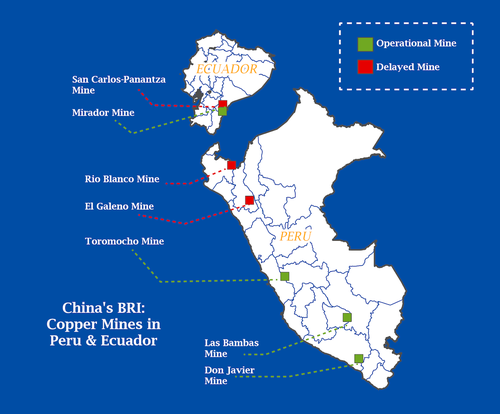 Methodology
This study utilized text-based data, commercial imagery, and land cover data to analyze all mines with publicly identified information regarding Chinese engagement. The land cover data is from the European Space Agency Sentinel-2 satellite. Supplied with this study are downloadable spreadsheets that excelBRI Categorization Matrixmark the Belt and Road Initiative (BRI) projects as official, informal, or private Chinese money and excelStructured Data of Minesother structured observations.  Locational files such as kmlLocation and Annotation of MinesKMZ and shpLocation and Annotation of MinesShapefiles are available for download that were mappable.
Peru's relationship with China and its Copper Mining Industry
Mining is a dominant sector in the Peruvian economy, representing 10% of Peru's gross domestic product (GDP), with copper-related activities representing 4% of Peru's total GDP. In 2017, over 60% of Peru's exports were minerals, copper being Peru's most important mineral export based on value. According to Peru's Ministry of Energy and Mines, the country is the second-largest producer of copper in the world. Prior to the COVID-19 pandemic, increased mining production, particularly of copper, was expected to be the primary driver of economic growth in the country.
The liberalization of Peru's mining industry, beginning in the 1990s and fueled by foreign investments, increased production and capacity of mines. Ernst and Young found that mining investment in the country grew by 24.45% between 2018 and 2019, with China being a key player. The research provided in this study notes that Chinese-financed copper mining in Peru has come with a large environmental cost, despite Peru's environmental regulations and its 2018 creation of an environmental court that specializes in criminal and administrative environmental cases. In 2020, Diálogo Chino argues that legal agreements between Peru and China should include environmental measures to allow for further scrutiny of project impacts and potential sanction mechanisms when environmental safeguards are violated. Other locals, who participate in the "No a la Mina" activist group against mining, argue that the Peruvian government is choosing to ignore problems, including environmental and socioeconomic concerns, and is heavily incentivized by investors to allow the projects to proceed and grow. 
Operational Mines
Toromocho Mine: China's Largest Overseas Copper Project
The Toromocho mine in Peru is China's largest overseas copper project. The mine was acquired in 2007 by Aluminum Corp of China (Chinalco) The Peruvian government granted Chinalco a construction permit in July 2011 and work began soon after, pictured in Figure 2. The mine became fully operational in 2013 and commercial production began on June 17, 2015, as seen in Figure 2.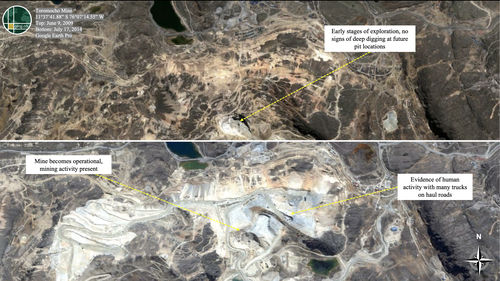 In the first year of production, Toromocho mine produced 182,288 tons of refined copper. Further, in 2018, there was an expansion of the mine with a projected 45% increase of copper output of 300,000 tons. See Figure 3 of expansion activity.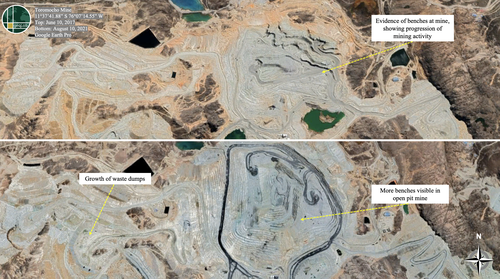 The infrastructure needed to produce copper at an industrial scale, in addition to the actual production and refining of copper, can lead to significant environmental damages. In villages nearby the Toromocho mine, communal water was contaminated by heavy metals, making it unsuitable for drinking according to a Stanford University study. This contamination is likely due to the large tailings dams/ponds spilling into nearby water sources, pictured in Figure 4. In 2014, the Environmental Assessment and Control Agency (OEFA) cited Chinalco for water misuse, leading Toromocho mine to temporarily pause mining operations. In April 2019, the Ministry of Health diagnosed 27 children under the age of 12 years with lead poisoning, representing the far-reaching impacts of contamination from the Toromocho mine.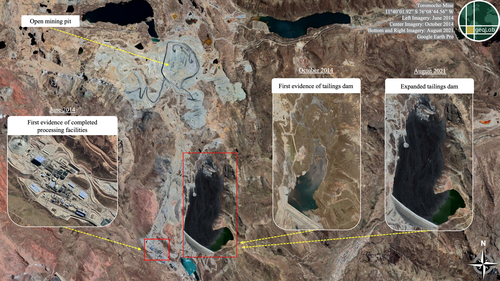 Further, Toromocho mine negatively impacted local communities with plans in 2012 to resettle 5,000 locals to a newly constructed town 12 km away. The new town, aptly named New Morococha, and shown in Figure 5, was a $50 million dollar investment deal with Chinalco that projected to bring new economic opportunities and a higher quality of life. However, a 2011 Peruvian Ministry of Housing report found the new town to be prone to flooding, earthquakes, and soil subsidence. Of the 4,000 relocated people, only 75% settled permanently. From a 2018 study conducted by the Peruvian National University of the Centre (UNPC), 80.6% of the inhabitants of New Morococha think that their economic situation was better in the old town.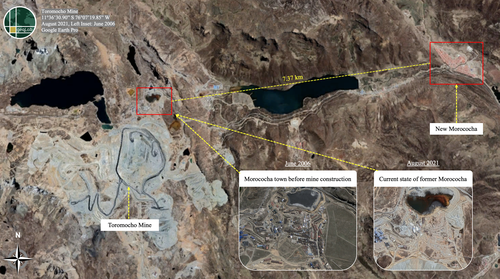 Despite environmental degradation and the impact on the local community, Toromocho mine continues to produce copper, and there are no current records of organized dissent against the mine. There are, however, noticeable differences in China's implementation of this mine compared to other mines in this study. For instance, Chinalco attempted to ensure resident livelihoods, yet failed in their execution, as evidenced by the prevalence of poor flood controls. The primary local job opportunities are jobs associated with the mine, which creates a dependence on Chinalco. This dependence has left many residents unemployed, as Morochocha resident Rolando Jerónimo explains "from the day Chinalco arrived, all work is subject to conditions. Once [the term of] your contract is complete, they no longer wish to renew it."
Compared to other projects in this study, Chinalco is active on social media, but posts focus on the mine itself as opposed to investment in local communities. For instance, a February 2022 facebook post challenges viewers to guess the Chinalco's official colors. Another post from the same month shows two workers by the mine with the caption "at Chinalco Peru we work as a team to achieve the best results" (translated from Spanish).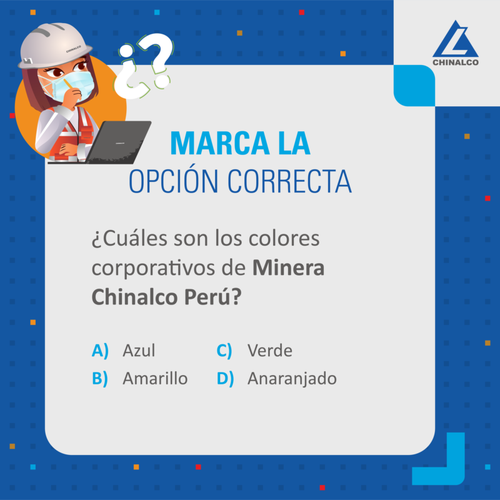 Las Bambas Mine: Failed Resistance to Halt Mine's Construction and Operation
Las Bambas mine was acquired by a Chinese joint venture in 2014; China Minmetals Corporation is the majority stakeholder of MMG, the owner of the Las Bambas mine and the later discussed El Galeno mine. Commercial operations at Las Bambas mine began in 2016. MMG reported producing 311,020 tons of copper in 2020. MMG plans to expand the mine with Chalcobama Phase I, which is scheduled to begin operations in 2022.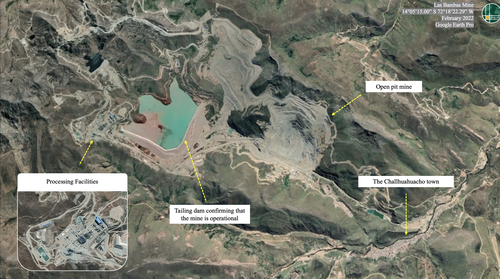 MMG seeks to ensure direct benefits to communities around Las Bambas mine. According to MMG, the project is said to have generated 6,000 jobs, both directly and indirectly. The Facebook page for the mine touts MMG's educational and community health initiatives. Nonetheless, there has been recorded resistance from surrounding communities. MMG began the physical resettlement of the community of Fuerabamba in 2014, the year the Chinese joint venture acquired the mining site. The following year, 100 mine workers were detained for five hours by 400 community members, marking the beginning of years of conflict between community members and MMG. That same year, a provincial strike resulted in three deaths and 23 injuries of civilians and police officers involved in the hostilities and police response. Most recently, in October 2021, hundreds of residents of Cotabambas, located 34.52 km from the mine, blocked the road that allows copper transport from the mine to the Matarani port, located 330 km away.
Since the mine became operational in 2016, Reuters estimates the mine has been closed for 427 days (as of February 2022). The mine has been documented by the Peruvian Society of Environmental Law to contribute to dust, sound pollution, vibrations. Moreover, the project has gained permits to water rights, further infuriating local indigenous communities that often do not have access to safe water.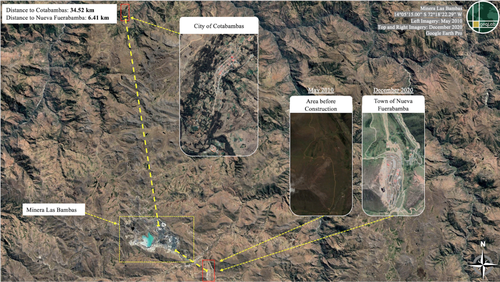 Don Javier Mine: Conflicting Text Data Obscures Mine's Operation
Don Javier mine is an open pit copper/molybdenum/lead/zinc/silver mine, owned and operated by Junefield Mineral Resources Holding Limited. We cannot determine from open company data or secondary reporting when Junefield Mineral Resources Holding Limited acquired the mine after the company's 2008 founding. However, as of March 2022, the mine is still reported by the Peruvian government to be in a pre-feasibility study stage, as shown in Figure 9. Commercial imagery, pictured in Figure 10, shows significant evidence of mineral extraction and human activity at the site beyond the study phase.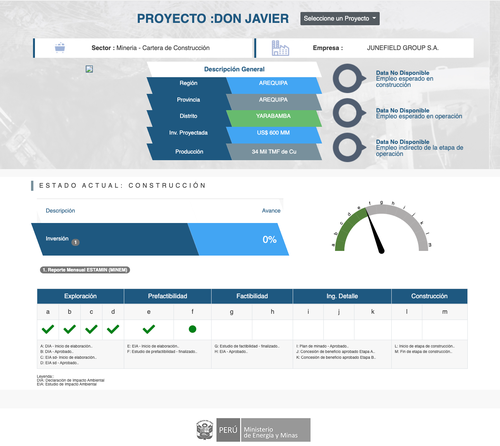 Although Junefield Mineral Resources Holding Limited reports obtaining two million tons of copper ore from Don Javier mine to date, the Peruvian government still reports the mine to be in the pre-feasibility stage of development due to not having completed an initial Environmental Impact Assessment from 2019. This discrepancy could have been caused by China missing deadlines, the Peruvian government not inputting data or a combination of both. Ground truth cannot be determined based on available information.
However, it is evident in commercial imagery (Figure 10) that operations are ongoing despite potential lagging or conflicting paperwork from the Peruvian government. The mine has two clear open pits with several benches (indicators of how far mining has progressed). The imagery further shows trucks traveling the roads around the mines; motor vehicle movement across snapshots of commercial images demonstrates activity in and around the mine. The growth of the tailings dam/pond adjacent to the open pit mines shows long-term copper production.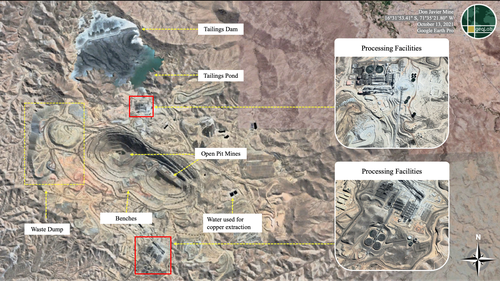 Government documentation of environmental impacts related to the mine is also limited. There is a lack of media information on the community's response. Unlike other mining operations in this study, neither Junefield Mineral Resources Holding Limited nor Don Javier mine have an identifiable social media presence. The scarcity of text-based information further obscures China's role and impact.
Delayed Mines
El Galeno Mine: An Unknown Indefinite Delay
El Galeno mine is an open pit copper/silver/gold/molybdenum mine. Originally a Canadian-owned mine, the Chinese state-owned China Minmetals purchased the not-yet-constructed El Galeno mine on April 28, 2009. As seen in Figure 11, temporary structures, indicating an investigation of the site, became visible in the area within months after this purchase. From the Peruvian government's perspective, El Galeno mine represented a blossoming relationship with China, in which Peru intended to permit further Chinese ownership of more Peruvian copper mines.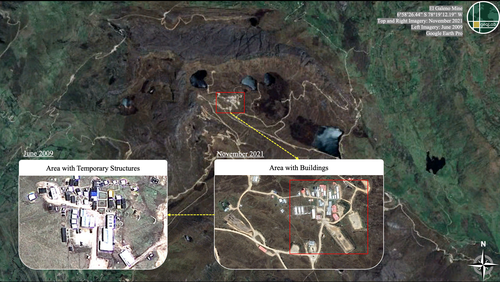 Despite over 2.5 billion USD in global investment, in 2020 the Peruvian government reported the project had been in the pre-feasibility stage since 2007. Commercial imagery shows that the only visible change since 2009 is the transformation of the temporary structures to permanent buildings, as shown in Figure 11. There is little evidence (reporting or imagery) that mining activities have commenced.
This analysis is further bolstered by the land cover data represented in Figure 12. The data shows that the buildings identified in Figure 11 were the only truly constructed area at the mining site as of 2020. The detection of scrub/shrub, or overgrowth of small plants, as the primary feature at El Galeno further suggests that mining has not commenced. If mining had commenced, the land cover would primarily show bare ground, as the land must be devoid of all trees, grass, and shrubs to begin copper extraction. The land cover data does show four water features at the mining site, which are visible in Figure 11. These water features are not tailings ponds and are most likely natural, as they were visible in commercial imagery before relevant activities commenced in 2009.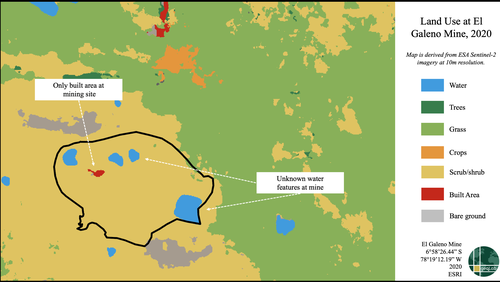 China Minmetals has not submitted the environmental impact studies necessary to begin establishing a mining timeline, meaning there is no expected start date for construction of the mine. A 2019 media source announced that the mine would begin operations in 2020; however, Peruvian government sources and commercial imagery both confirmed that the mine has still not been constructed. It is unclear why the Peruvian government acknowledges the lack of progress on El Galeno, while ignoring the current situation at Don Javier. Peruvian government publications interacting with the reality on the ground are vastly different between the two mines, despite reporting the same status, as shown in Figure 13.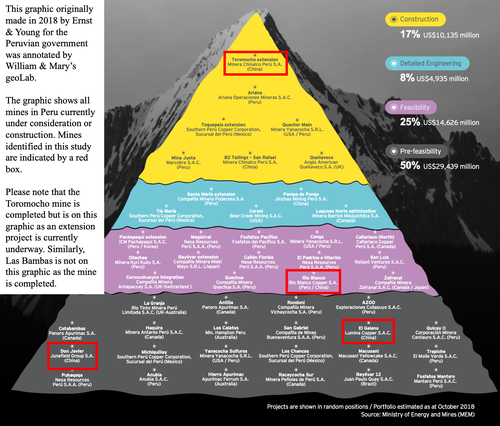 It remains unclear why El Galeno mine has been indefinitely delayed. There are no reports of tensions between the mine and local communities. The Chinese stakeholders signed an accord in 2010 with the nearby community of La Encañada, Cajamarca agreeing to designate 90% of all non-skilled jobs to local residents. According to a Samuel Engineering 2007 pre-feasibility study completed for the Peruvian government, socio-economic baseline studies identified that the project would create jobs for the local communities, however, this has not come to fruition as the project is delayed.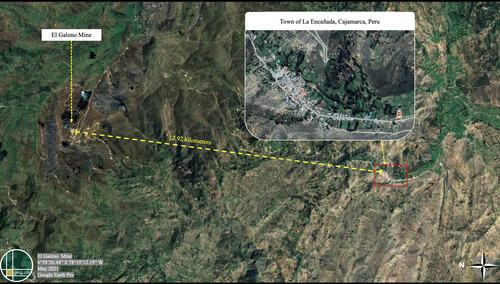 Rio Blanco Mine: Local Resistance Successfully Halted Mine Construction
Located in the Piuria region of northern Peru, the Rio Blanco mine is a planned open-pit porphyry copper mine that lies on the northern end of the Peruvian copper-gold belt. In April 2007, the Chinese-owned Zijin Mining Group acquired the mine from the UK-based Monterrico Metals. According to a 2020 Peruvian government report, the Rio Blanco mine is currently in the feasibility stage, with no known planned date for construction and operation. If it were to be developed, the Rio Blanco mine would be among the 20 largest copper mines in the world.
Commercial imagery confirms Peruvian government reports that no construction has occurred, as shown in Figure 15.  Commercial imagery reveals a mountainous and remote area, confirming the lack of built structures for any purpose. The mine is not operational nor has construction even begun, but the mere planning of the mine has incited significant local resistance.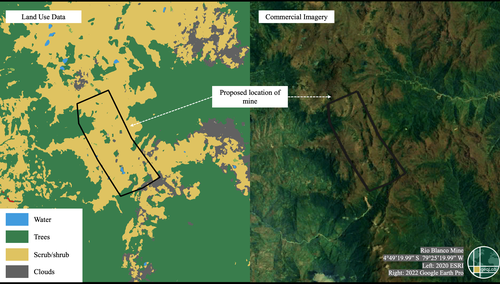 The project has been delayed because of resistance from local communities regarding property rights and the environmental impact of the project. Communities demanded the protection of local water and voiced opposition to any and all mining activity in their localities. This opposition became formalized through consultations regarding the mine in 2002 and 2007, where 97 and 95 percent of the local population in the Ayabaca and Huancabamba provinces rejected the proposed mine, primarily on the grounds of the mine's negative impact on communities. However, a 2010 Peruvian government report found that no economic, educational, cultural, or other activities had taken place yet. Not all conflict surrounding the mine is peaceful; a 2005 investigation by the Peruvian government concluded that over 20 people were kidnapped and beaten after protesting against the project. These protests have continued over the past two decades; in April 2019 thousands of locals were still protesting the project.
In terms of environmental impacts, a 2008 report by the Peruvian government found the project in violation of multiple environmental regulations relevant to mining operations, including inadequate environmental management and a lack of implementation of erosion control measures. The Peruvian government required Zijin Mining Group to deliver an acceptable rehabilitation plan for the mine in forty-five days, but it is unclear if this request was fulfilled by the Chinese company. It is also unclear how these environmental concerns compare to environmental concerns raised in relation to the other mines. At any rate, based on our analysis summarized in Figure 15, the area remains relatively undisturbed by humans.
Unlike other Chinese-financed mines included in this study, the Rio Blanco mine proposal will include not only the copper mine itself, but also the construction of 25 km of new roads, the upgrade of 176 km of existing roads, 200 km of power lines, and the construction of storage and loading facilities at the port of Bayovar (located 800 km north of Lima). This additional infrastructure expansion is also not visible on imagery and delayed as well. Further, the mine is expected to produce 5,000 jobs during construction and 1,200 jobs during operation. As evidenced by the continued community protests, locals seem to place a low priority on these potential positive socio-economic benefits of the mine. This potential low prioritization of the socio-economic benefits leaves the question of whether other socio-economic initiatives at the other studied mines had a significant impact on the public's perceptions and interactions with the mine.
Oct 01, 2021

Community protests at Las Bambas

Hundreds of residents of Cotabamba block the road that allows the transport of copper from the Las Bambas mine to

the Matarani port


---

Oct 01, 2021

Significant satellite evidence of activity and extraction at the Don Javier mine

---

Jan 01, 2021

Chalcobamba Phase I repositioning project at Las Bambas begins

---

Jan 01, 2020

Peruvian government reports El Galeno mine is in the pre-feasibililty stage

---

Jan 01, 2020

Peruvian government reports that Rio Blanco is still not operational

Peruvian government notes that the Rio Blanco mine is in the process of updating the feasibility study, drafting the

environmental impact assessment, and working to improve community relations


---

Apr 01, 2019

Health concerns at Toromocho

Peru's Ministry of Health diagnosed 27 children under the age of 12 years with lead poisoning, representative of emerging

signs of contamination coming from Toromocho


---

Apr 01, 2019

Thousands of local protest the Rio Blanco mine

---

Jan 01, 2019

Peru joins China's Belt and Road Initiative

---

Jan 01, 2019

Peruvian Government falsely reports Don Javier as not operational

Peruvian government reports that the Don Javier mine is in the pre-feasibility stage as it has not completed the initial

Environmental Impact Assessment, this report is false


---

Jan 01, 2019

Proposed beginning of operations for the El Galeno mine, this goal was not met

---

Jan 01, 2019

Expected commencement of mining at the Rio Blanco mine, this goal was not met

---

Dec 01, 2018

Exploration officially begins at El Galeno

Exploration authorization evaluation approved, MMG allowed to begin exploring the area for the appropriate place to

mine copper deposits


---

Jan 01, 2018

Toromocho expansion is expected to increase copper output by 45% by 2020

---

Jan 01, 2017

Proposed beginning of operations for the El Galeno mine, this goal was not met

---

Jan 01, 2016

Commercial Operations at Las Bambas mine begin

---

Jul 01, 2015

Satellite evidence of extensive mineral extraction at Don Javier

---

Jun 17, 2015

Commercial production begins at the Toromocho mine

---

Jan 01, 2015

100 mine workers were detained for 5 hours by local community at the Las Bambas

---

Jan 01, 2015

Provincial strike at Las Bambas

A provincial strike resulted in 3 deaths and 23 injuries (15 civilians and 8 police officers) due to police hostility

at the Las Bambas mine


---

Jan 01, 2015

Proposed beginning of operations for the El Galeno mine, this goal was not met

---

Jan 01, 2015

Two workers at the mine were found dead after arriving in Rio Blanco mine area

---

Jun 01, 2014

Completed processing facilities at Toromocho mine

---

Jan 01, 2014

Environmental Assessment and Control Agency cited Chinalco for water misuse

---

Jan 01, 2014

A Chinese joint venture buys the Las Bambas mine for $5.85 billion dollars

---

Jan 01, 2014

Fuerabamba community was resettled by the Las Bambas mine

---

Jan 01, 2014

Peruvian government reports that Rio Blanco will begin construction shortly

---

Sep 01, 2013

China's Belt and Road Initiative begins

---

Mar 01, 2013

Export-Import Bank of China loans 419 million USD for the Toromocho project

---

Jan 01, 2013

Tomomocho is fully operational

---

May 01, 2012

Initial construction of processing facilities present at Toromocho mine

---

Jan 01, 2012

5,000 locals forcibly resettled 12 km away at the Toromocho mine

---

Jul 01, 2011

Chinalco given the construction permit to begin exploration at Toromocho

---

Jan 01, 2010

Lumina copper works with local community at El Galeno

Lumina Copper signs an accord with the nearby community of La Encañada, Cajamarca agreeing to designate 90% of all

non-skilled jobs at El Galeno mine for local residents


---

Jan 01, 2010

Peruvian government finds no impacts of Rio Blanco on local community

Peruvian government finds that no economic, educational, cultural or other activities of the nearby Yanta community

occur in the area directly impacted by the Rio Blanco mine


---

Apr 28, 2009

Chinese state-owned China Minmetals purchases the un-constructed El Galeno mine

---

Feb 01, 2008

Peruvian Government reports that Rio Blanco violating environmental regulations

---

Jan 01, 2008

Export-Import Bank of China loans 2.42 billion USD for the Toromocho project

---

Jun 01, 2007

Chinalco acquired the Toromocho mine

---

Apr 01, 2007

Zijin Mining Group gains ownership of the Rio Blanco Mine

---

Jan 01, 2007

El Galeno mine submits the official pre-feasibility study

---

Jan 01, 2007

Consultation in Huancabamba results in a 95 percent rejection of Rio Blanco mine

---

Jan 01, 2005

Protests at Rio Blanco mine

Peruvian government finds that over 20 people were kidnapped and beaten after protesting against the Rio Blanco mine

---

Jan 01, 2004

Las Bambas mine initially explored

---

Sep 01, 2003

Active construction at Don Javier

Satellite evidence of excavated pits, facilities, and wide haul roads present, indicating active construction, at

the Don Javier mine


---

Jan 01, 2002

Consultation in Ayabaca results in a 97 percent rejection of Rio Blanco mine

---

Jan 01, 2001

UK company obtains Rio Blanco mine

A subsidiary of the United Kingdom-based Monterrico Metals obtains the Rio Blanco Mine as a part of eight mining concessions

it received in Northern Peru


---

Jan 01, 1994

Rio Blanco mine is discovered

---
---
Look Ahead
It is unclear why the Peruvian government, and other sources, do not report the Don Javier mine as operational. This discrepancy stands out in direct contrast to the up-to-date text-based information on the other four studied mines. China has been instrumental in developing Peru's mining industry and helping it be competitive on a global scale. While the Peruvian government supports Chinese mining, multiple mines have been severely impacted by local, grassroots resistance concentrated on environmental and socio-economic concerns. Organized resistance could delay or halt other Chinese mining projects not only in South America but other parts of the world.
Things to Watch
Will China expand its presence by investing in more copper mines in the Andes?
Will the proposed/delayed mines become operational? Or, will local communities continue to effectively resist the mine construction?
How will China continue to fulfill its growing demand for foreign copper?
Part 1, see our analysis on mines in Ecuador.
---
---