Overview
In order to help establish his long-term legitimacy as leader of North Korea, Kim Jong-un has implemented numerous large-scale public works campaigns to raise living standards for targeted constituencies across the country.
In Sinuiju, it's unclear how successful these projects will be in promoting the Kim regime. Despite the city's unique role in DPRK-China trade, its transportation infrastructure remains neglected, and North Korea's new merchant class is assuming greater influence over the local economy.
---
Activity
Sinuiju City is the capital of North Phyongan Province. According to North Korea's 2008 census, its population was approximately 360,000, making it a mid-sized provincial-level city. Sinuiju rests at the end of the Yalu/Amnok River across from the Chinese City of Dandong, and due to its geographic location, it is a vitally important link in trade between the two countries. In the Text/Timeline/Graph features, we explore some of these economic and showcase political projects.
Sinuiju is the home of North Korea's most utilized road and railway trade arteries, yet the city's transportation infrastructure has not been a high priority for government investment. The road from Sinuiju to Anju (half the distance to Pyongyang) is still an unpaved dirt road. Additionally, the World War II-era China-DPRK Friendship Bridge used to facilitate trade with China, North Korea's largest trading partner, consists of just a single traffic lane and railway crossing and it is frequently closed for maintenance.
National and local leaders have on multiple occasions sought foreign investment to improve infrastructure in Sinuiju through the establishment of a Special Economic Zone (SEZ). However, there has been little real progress. China built a new four-lane suspension bridge to Sinuiju at a cost of nearly $350 million to serve as an alternate transportation corridor, but North Korea has not allowed the new bridge to become operational since being largely completed in 2014. A Chinese company has also constructed a tourist resort on the Yalu/Amnok river to serve Chinese tourists, however, its utilization appears to be far below capacity, and its impact on local infrastructure is negligible. (See exemplar image below).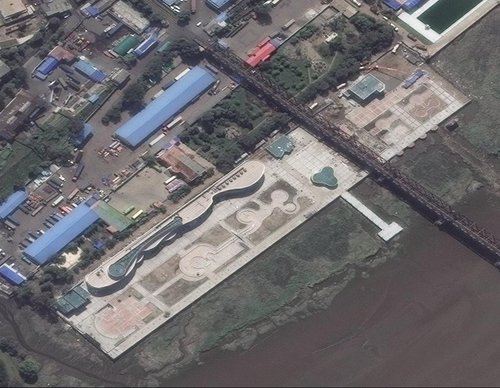 Despite the economic benefit that could accrue to North Korea from improved transportation and trade infrastructure in Sinuiju, construction in the Kim Jong-un era has been largely mobilized to carry out economic and entertainment projects aimed at showing "Kim Jong-un's love for the people"--in other words defining and securing the leadership of Kim Jong-un. The kinds of projects being undertaken in Sinuiju, such as a new stadium, a new theater, school renovations, and new park construction are nearly identical to construction taking place in other provincial capitals, making it representative point of observation for signature projects of the Kim Jong-un era. However, it remains unclear just how popular and effective these centrally-driven projects are at meeting local demand for entertainment and generating political goodwill towards Pyongyang. (See exemplar image below).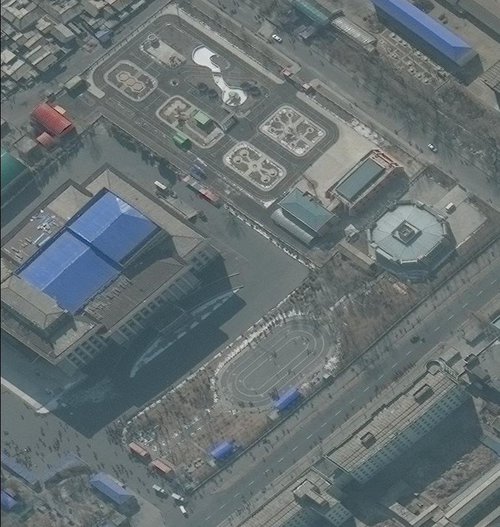 Sinuiju's legal and illegal (but tolerated) market economies, however, have seen significant growth in the Kim Jong-un era. Most of the large legal markets have been expanded or renovated, offering newer facilities and more stalls for vendors. This is a win-win for North Korean consumers as well as local tax authorities. Additionally, North Korea's burgeoning real estate market, which appears to remain technically illegal, has been growing to meet the demand for new and higher quality housing by North Korea's burgeoning capitalists. (See exemplar images below).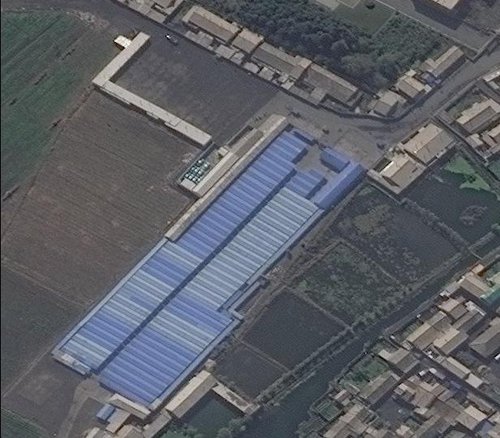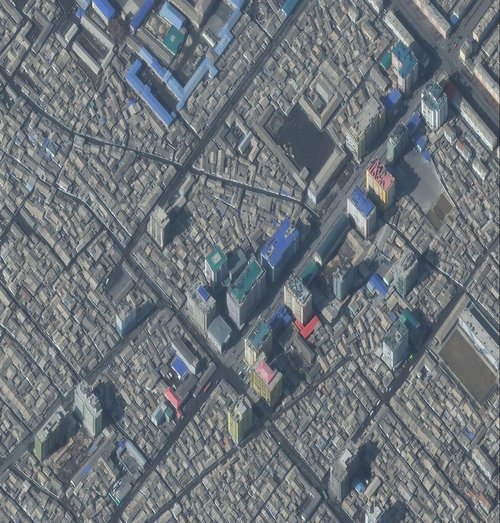 ---
Look Ahead
To the extent that the US wishes to maintain an accurate assessment of the relationship between China and North Korea, experts should be familiar with exchanges between the two countries, especially trade and investment flows, or efforts to draw North Korea closer to China. In this regard, Sinuiju is perhaps the most important locality to keep tabs on owing to its importance in bilateral trade. From the standpoint of current policy, monitoring activity in Sinuiju is important from the prospective of enforcing US and UNSC sanctions. Areas of interest should include current and potential border crossing and shipping routes. Areas where North Korea has sought to attract foreign direct investment should also be monitored.
Things to Watch
How busy are Sinuiju's ports and border crossings?
Are improvements underway at factories associated with significant military production?
Is progress being made on opening the new Yalu/Amnok River Crossing?
Is progress being made at any of the Special Economic Zone (SEZ) sites on the Yalu/Amnok River?
Is there an upward trend in housing construction?
---
---