Overview
The Russian invasion of Ukraine presents potential environmental consequences. Since early 2022, Russian forces have attacked multiple oil refineries across the country. Watershed analysis indicates that contamination from these attacks could pollute lands, groundwater, and seep into nearby surface waters.
Geospatial analysis of the Kremenchuk and Odessa Oil Refineries – which have both been targeted by Russian attacks and are situated near major waterways – reveals potential environmental degradation specifically in the surrounding areas, with the possibility of disruptions to human health and agricultural lands. This analysis can serve as a long-term impact model, or partial model, for future oil or other chemical storage attacks in other regions.
---
Activity
GIS-based hydrological analysis identifying the topography surrounding two Russian-attacked oil refineries in Ukraine reveals potential negative impacts on the region's watersheds.
On February 24th, 2022, Russia invaded Ukraine following months of military build-up and escalating rhetoric. The humanitarian and economic losses in Ukraine as a result of the war have been widespread and costly. In the past year, the war has led to at least 18,000 civilian casualties and damaged or destroyed $114.5 billion dollars worth of Ukrainian physical infrastructure. Many impacts will be felt for decades to come, as the war will permanently alter Ukraine's land and have wide-reaching consequences on Ukrainian industrial capabilities.
Methodology
This study utilized open reporting, commercial satellite imagery, and GIS-based hydrological analysis to examine the potential environmental impacts of attacks on oil refineries in Ukraine. We identified damaged oil refineries and surrounding areas through open reporting and commercial satellite imagery. Imagery and GIS analysis were supplemented with an extensive review of press reports, scientific papers, and government documentation.
Depictions of water flow in the watersheds surrounding the case study refineries were developed using Esri ArcGIS Pro with Shuttle Radar Topography Mission (SRTM) data. The lines pictured below in Figure 1 represent water flow accumulation (rain and snow melt) throughout the watershed encompassing the Odessa Oil Refinery. According to Esri, flow accumulation is "based on the number of total or a fraction of cells flowing into each cell in the output raster." Esri states that:
Output cells with a high flow accumulation are areas of concentrated flow and can be used to identify stream channels.
Output cells with a flow accumulation of zero are local topographic highs and can be used to identify ridges.
More simply, the lines throughout this study represent how much water would flow along that path, which is determined by the topography of the surrounding area. Darker lines represent paths of higher flow accumulation, such as stream channels, which draw in water from a larger surrounding area. Lighter lines represent paths of lower flow accumulation, meaning less water will flow along these routes as topography determines they will draw in water from a smaller area of land. 
How to read the legend and charts
Given that the color of the line effectively represents a measure of the land area that the flow path draws in runoff water from, the units of measure for flow accumulation are square meters of contributing area. In the figures that follow, dark blue lines represent the highest flow accumulation, meaning that it draws from the largest contributing area, measured in square meters, and is where the overland water flow will be the heaviest. Perfectly straight lines within the GIS figures are a result of the scale of the figures; if the flow accumulation were calculated at a lower resolution with less detail, then the flow paths would not be straight as in nature, although they would still eventually lead to the same bodies of water.
As Figure 1 illustrates, damaged infrastructure – such as refineries – intersects with water networks in complex but important ways. Pollutants and debris stemming from attacks can enter the water system and become waterborne pollutants. These pollutants then travel through the watershed, predominantly along the paths represented by the lines of higher flow. There is a greater likelihood that pollutants will be picked up into the water and travel farther distances at a quicker speed along lines of greater water flow accumulation than along the lines of lighter water flow accumulation. As such, in subsequent figures in this study, only darker lines – those of higher flow accumulation – will be symbolized. 
One unique challenge to studying the potential long-term impacts of damaged industrial sites is the large distances that uncontrolled pollutants can travel. One study looking at the travel time of runoff in Israel found that runoff could have an overland reach of multiple kilometers. Overland runoff comes as a result of rainfall that does not enter the soil to become groundwater. Ukraine is a country that experiences year-round rainfall, with the highest concentrations of precipitation occurring between May and August. The heaviest rain season followed fairly close after the attacks analyzed in this study. Moreover, there is a reasonable case for contaminants from attacked refineries becoming waterborne through surface runoff and traveling from the refinery sites.
Oil Industry in Ukraine
Refined petroleum is Ukraine's most in-demand import, with the country purchasing resources largely from Russia, Belarus, Lithuania, Turkey, and Greece prior to the 2022 invasion. Ukraine is geographically situated as a transit country for petroleum suppliers such as Russia, which is the third largest producer in the world and the top supplier for Europe. The three regions within Ukraine that contain hydrocarbon energy resources are the Dnipro-Donetsk basin, the Carpathian region in the West, and the Black Sea & Crimea region in the South. The Dnipro-Donetsk basin accounts for 90% of all current production. Globally, oil prices had been steadily increasing before Russia's invasion, but rose exponentially once the war began. According to the International Energy Agency, oil demand in Ukraine exceeds supply, with the country meeting its needs through imports.
Case Studies
Open data analysis identifies six oil refineries in Ukraine, the locations of which are pictured below in Figure 2. Five of these oil refineries have been attacked by Russian forces during the ongoing conflict as of February 2023. Data and sources for each of these attacked refineries are attached in the excelRefinery DataRefinery Datasheet at the end of this study. Of the five refineries that faced known attacks, only two—Kremenchuk Oil Refinery and Odessa Oil Refinery—are located near major bodies of water. At the time of this study, none of Ukraine's oil refineries are functioning at full capacity.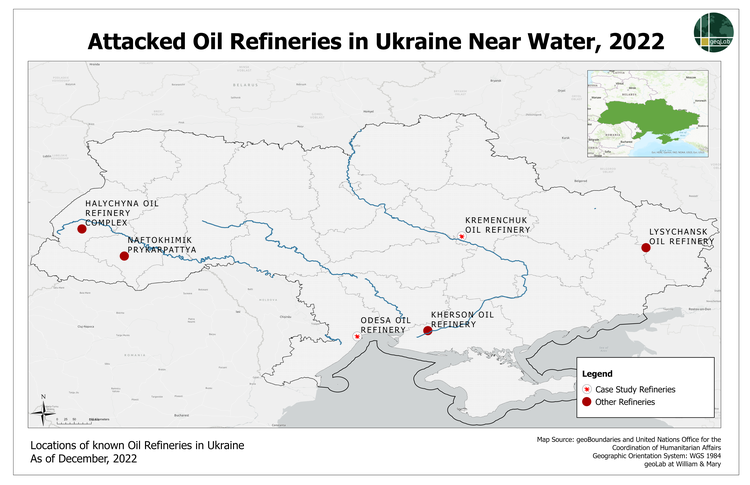 Water Contamination and Environmental Degradation
Even while conventionally operational, oil refineries can cause significant environmental damage. The process of refining crude oil into petroleum products can impact air, water, and soil quality. In fact, the refining process is responsible for the most pollution in the oil production operation. According to scholars from the National Petroleum Agency of Brazil and the Federal University of Rio de Janeiro, the refining process "consume[s] large amounts of energy and water, produce[s] large amounts of wastewater, release[s] hazardous gasses into the atmosphere, and generate[s] solid waste that is difficult to treat and dispose of." As such, the refining process can cause environmental damage, even if managed properly.
Additionally, armed conflict is known to heavily impact the environment, from requiring energy and oil for infrastructure and weapons to emitting copious amounts of carbon dioxide, to sustaining and renewing military equipment and operations. The Conflict And Environment Observatory, a UK-based charity that studies the intersection of war and the environment, argues that war has the power to destroy landscapes, shut down and damage pollution treatment plants, and pollute land and water with military scrap, war remnants, and wrecked infrastructure. 
To explore the environmental impacts of oil refining and armed conflict in this study, we focus on the surrounding watersheds of Kremenchuk and Odessa. 
The U.S. Geological Survey defines a watershed as "an area of land that drains all the streams and rainfall to a common outlet." The drain may be a reservoir, a bay, or a stream channel, while the entire watershed area may contain both surface water and groundwater. A study published in Environmental Geology found that an oil refinery in Louisiana discharged effluent into surrounding water banks. This led to high levels of lead contaminants traced back to the refinery's activities. This is significant, as documented in a USAID initiative, because approximately25% of drinking water in Ukraine originates from watersheds, underscoring the importance of regulating pollution and keeping watersheds free of contaminants.
As seen above in Figure 2, the Kremenchuk Oil Refinery is located near the Dnipro River, one of the largest rivers in Europe. A technical report by the European Union Water Initiative Plus for Eastern Partnership Countries reported that the Dnipro watershed extends to about 296,317 km2, covering 48% of Ukraine.
The Odessa Oil Refinery is located close to the Black Sea. Based on the slope analysis, one would expect to see a greater flow accumulation of contaminants from the oil refinery into Odessa Bay. Due to the size of the Black Sea, we are unlikely to see the immediate impacts of the attacks on the watershed, though long-term effects may be visible.
Alternatively, pollution from the Kremenchuk Oil Refinery may not be widespread or quick-flowing into the Dnipro River and surrounding watershed. However, there are implications for groundwater pollution. A study on an oil refinery in Iran found higher levels of contamination and heavy metals in topsoil, surface water, and groundwater samples from surrounding areas. As a result, researchers suggested that "edible plants not be cultivated in the region" due to the potential impact on human health. With Kremenchuk located in a large plains region, there are potential implications for agricultural production.
Previous research has also linked armed conflict and increased levels of water contamination. A 2014 study on the environmental effects of war in Syria found a connection between war activity and heightened levels of water pollution, stating:
"The decline in the working capacity of the governmental bodies to less than 30 % during the time of war, in addition to the increased conflict, people displacement and lack of control, is believed to have contributed to the degradation of the water quality in the coastal area and to have increased the population health hazards."
Based on previous research discussed above, we assess that degradation to the watershed will be observable in Ukraine over time, especially as the conflict continues. As such, the conflict in Ukraine is expected to increase environmental degradation in the country. Organizations such as the U.N. Environment Programme are tracking the environmental impacts of this war. Figure 3 below depicts environmental risk due to inflicted damage or disruptions as a result of Russian aggression in Ukraine.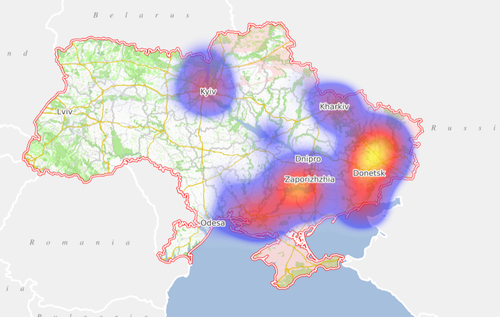 Kremenchuk Oil Refinery: Ukraine's Largest Refinery
The Kremenchuk Oil Refinery, which began operations in 1966, is the largest of the six oil refineries in Ukraine. According to Al-Jazeera, Kremenchuk Oil Refinery, Ukraine's last fully-functioning oil facility, suspended operations in April 2022 due to Russian attacks. The refinery is located in Kremenchuk, an important industrial city in central Ukraine that sits approximately 12.5 km from the Dnipro River and 4.7 km from the Psel River, as pictured below in Figure 4. With a design capacity of 18.6 million tons, the refinery is operated by Ukrtatnafta, a Ukrainian company founded in 1994.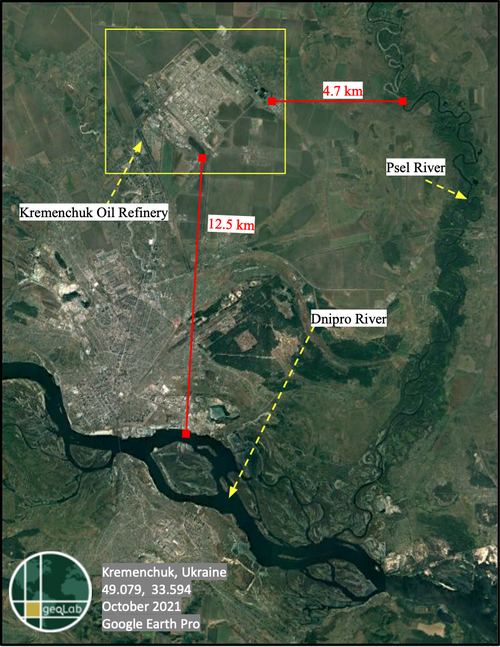 According to Ukrainska Pravda, a Ukrainian-owned online news outlet, the first attack on the Kremenchuk Oil Refinery occurred on April 2, 2022. The same Ukrainian source noted that "there [was] no environmental catastrophe, and the State Emergency Service [was] monitoring the situation." Still, the attack was severe enough for operations at Kremenchuk to be suspended until further notice. According to Global Times, a Chinese state-owned news source, an attack occurred on May 12, 2022, even though operations at the facility were already suspended. The same source noted that twelve rockets hit the infrastructure facilities in Kremenchuk, with most of them striking the oil refinery which caused a major fire. The most recent attack took place on February 16, 2023.
Figure 5 and Figure 6 display three sites within the Kremenchuk Oil Refinery, comparing the sites before and after the attack on April 2, 2022. Damages to oil infrastructure within the refinery following the attack are clearly evident in both figures.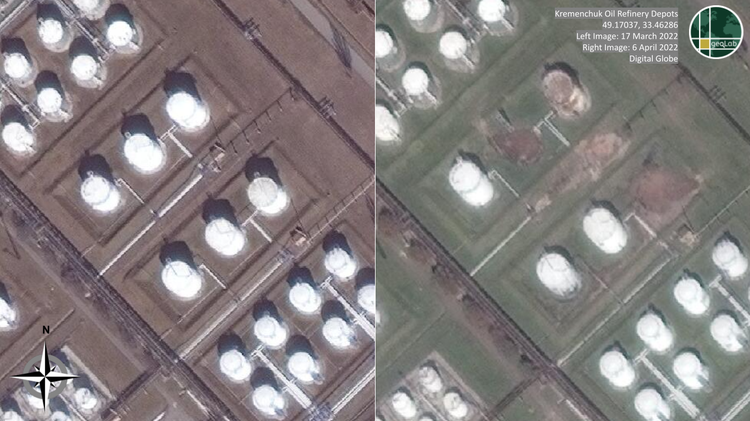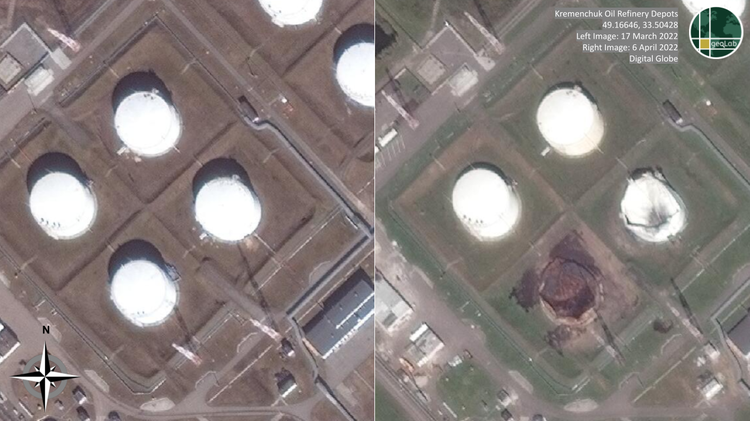 The Kremenchuk Oil Refinery is located in the city of Kremenchuk, in the Poltava Region of Central Ukraine. While Kremenchuk is highly industrial, the prairie lands surrounding the city possess fertile soil, ideal for grain farming. In fact, prior to the Russian invasion, over 55% of Ukraine was considered arable and agriculture accounted for 41% of the country's exports. The invasion significantly stalled agricultural production, creating a global food shortage. Given Kremenchuk's proximity to this agricultural land, the damaged oil refinery could pose a threat to the long-term use of this area. 
Based on the slope analysis in Figure 6, the lines of water flow are light and disconnected, indicating that pollutants from the destroyed refinery may remain stagnant. They will not be easily transported throughout the region or into larger bodies of water. Because there is generally less water flow around Kremenchuk, the pollutants may seep into the ground, resulting in the land around the refinery becoming less arable in the long run. Eventually, this area could become a brownfield, land that goes unused due to concerns about contamination.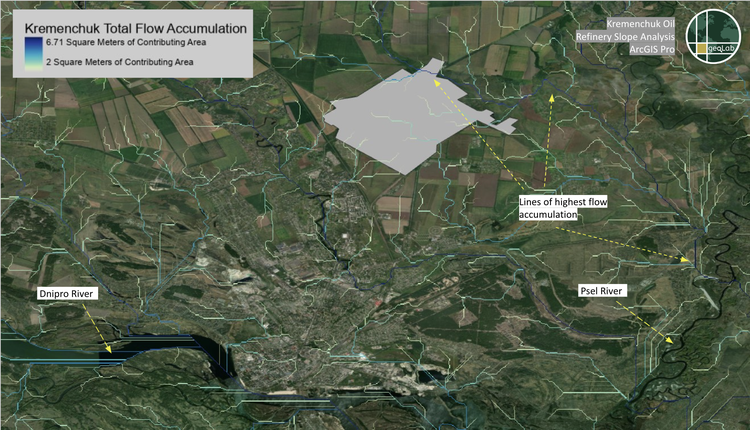 Groundwater intrusion is a concern in this case, as Kremenchuk is located in a large plains region responsible for large volumes of agricultural production. Extended beyond this specific case as an impact model for other cases, environmental impacts that reduce productivity have both local economic effects and important international impacts, due to the critical role that Ukraine plays in global food markets.
Odessa Oil Refinery: Refinery in a Major Port City
The Odessa Oil Refinery is the fourth largest refinery in Ukraine. The refinery is loctated in the port city of Odessa, in close proximity to major bodies of water including Odessa Bay, the Black Sea, the Khadzhibey Estuary, and the Kuyalnik Estuaries, as pictured below in Figure 8. The Odessa Bay sits 1.5 km away from one of the petroleum storage facilities, while the Khadzhibey and Kuyalnik Estuaries are roughly 4.5 km and 7 km, respectively, from the petroleum sites. After the Moscow-based crude oil company Lukoil purchased a majority of the refinery's shares in 1999, the refinery underwent full-scale modernization. By 2008, the plant had reached a processing capacity of 2.8 tons per year. The Ukrainian government has owned and managed the refinery since 2013.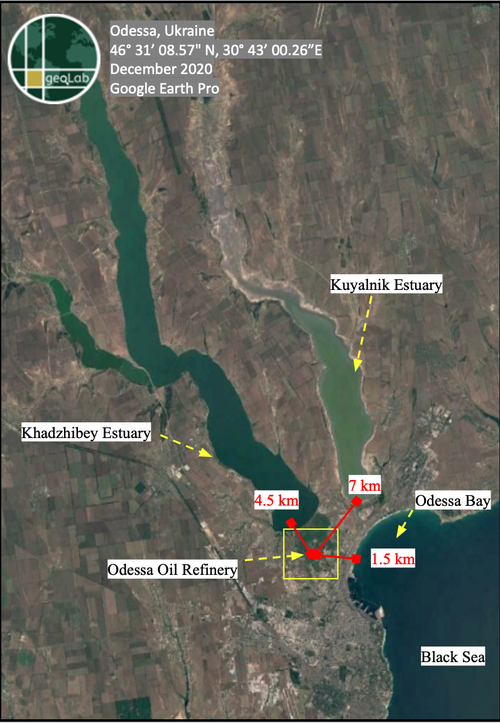 Under governmental control, the refinery has fallen into disrepair, receiving no maintenance for over a decade. In 2021, a Ukrainian governmental commission concluded that the refinery's enduring neglect "could lead to catastrophic environmental and fire consequences." The commission – part of the Odessa Regional State Administration – determined that leftover residues and continued storage of hazardous materials—like petroleum, dozens of tons of hydrogen, and over a thousand tons of flaked sulfur—pose environmental risks. Hennadiya Hutsu, a leading oil production specialist in Ukraine who was consulted by the commission, concluded that "working pressure[s] of gaseous and liquid hydrocarbons" were present within refinery reserves. In the event of an explosion, hydrogen stores could also spur damage across a radius of 500-600 meters. Additionally, the commission noted in 2021 that a nearby matrix of underground tunnels had been contaminated by the refinery's toxic byproducts, posing the risk of degraded soil and water quality. 
Infrastructure damage due to possible munitions impacts at this site during the Russian invasion of Ukraine may have expedited this process of environmental degradation. On April 3rd, a barrage of missiles struck the oil refinery, damaging several of its storage facilities and nearby fuel tankers. As depicted in Figure 9 and Figure 10, oil refining and storage facilities throughout the city of Odessa have incurred significant damage as a result of the April 3rd attack. Imagery depicting post-attack conditions was taken on May 9, 2022.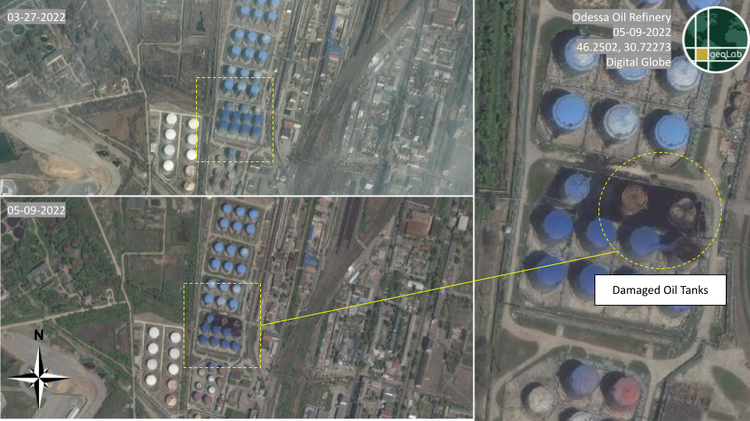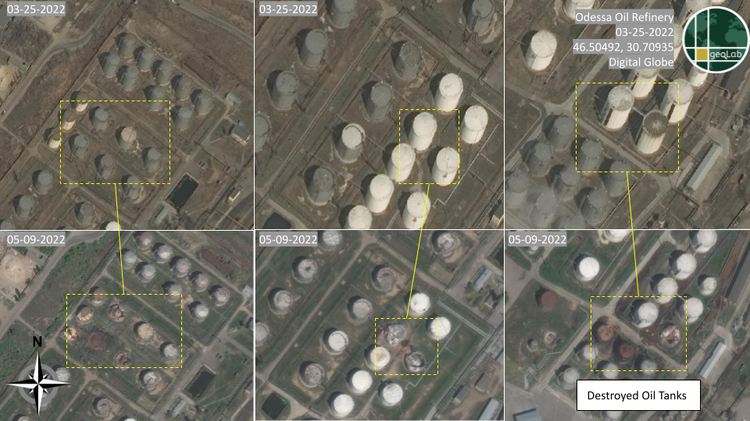 Based on the slope analysis in Figure 11, runoff from attacks on the Odessa Oil Refinery and surrounding depots could reasonably reach the water flow accumulation network, wherein the contaminants can extend beyond the parameters of their facilities. Whereas byproduct accumulates and seeps into areas with lower flow, areas with a higher flow are able to disperse pollutants over wider stretches of land at greater speed.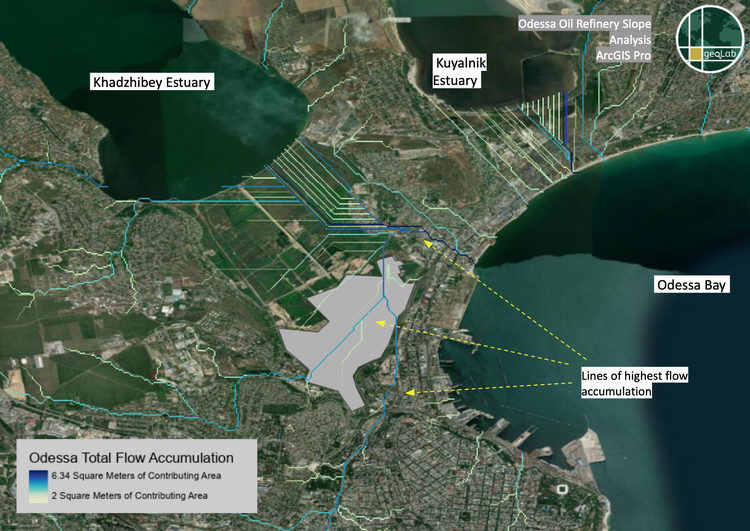 Darker blue lines in Figure 11 indicate flow paths with potentially higher volumes of water, suggesting that byproducts of attacks may disperse and infiltrate wider areas with more ease and expediency. A high-accumulation vein directly intersects the entire oil refinery, demarcated by the gray polygon in Figure 11. Pollutants could travel through this conduit, which traverses the vertical extent of the refinery and continues into the city along multiple pathways. This network of water passages may enable contaminants to drain toward the Khadzhibey and Kuyalnik Estuaries, as well as the Black Sea and its corresponding watershed. A lighter vertical flow line also bisects the refinery in Figure 11, suggesting that contaminants originating from this site may also maneuver throughout this network, albeit at decreased speed and efficacy. Additionally, contaminants may instead seep into the ground, impacting the future usability of the tract.
Conclusion & Implications
Commercial imagery analysis confirms physical damage to the Kremenchuk and Odessa Oil Refineries as a result of Russian attacks. Furthermore, GIS-based hydrological analysis identifies potential areas of impact for reduced overall water quality following the attacks. Environmental degradation surrounding the oil refineries which experienced attacks—whether in the form of shells, missiles, or the resulting fire—indicates that Russian aggression may have widespread and long-lasting environmental impacts. This analysis can serve as a long-term impact model, or partial model, for future oil or other chemical storage attacks in other regions.
Contribution Note
This report was made possible by the technical research contributions of Joseph O'Brien, Geospatial Evaluation and Observation Lab (geoLab) researcher at the College of William & Mary.
Timeline
---
Look Ahead
The war in Ukraine is expected to increase the quantity of runoff and heavy metals generated by military attacks and the resulting destruction of oil facilities. These contaminative elements will seep into neighboring watersheds and bodies of water, further damaging vulnerable ecological systems and jeopardizing public health. These effects will be amplified as the conflict and attacks continue. In any post-war scenario, attempts to manage or clean-up this environmental issue will be a long and costly undertaking, likely necessitating extensive international support.
Things to Watch
What will the long-term impacts of Russian invasion be on the environment, beyond polluting nearby water sources?
What will it take for the oil refineries to become operational again, if at all? And who will invest in repairing the damages to the refineries?
Will there be a continuation of Russian attacks on these specific oil refineries?