Overview
This report summarizes confirmed impacts to cultural heritage sites due to the ongoing armed conflict in Ukraine from September 2022 through January 2023. Confirmations were made by the Cultural Heritage Monitoring Lab (CHML), using high-resolution commercial satellite imagery supplied by CHML's partnership with NGA. In total, CHML analysts confirmed conflict-related impacts to 102 Ukrainian sites between 01 September 2022 and 31 January 2023, for a total of 309 since 24 February 2022.
---
Activity
The Cultural Heritage Monitoring Lab (CHML), a partnership between the Virginia Museum of Natural History (VMNH) and the Smithsonian Cultural Rescue Initiative (SCRI), uses open-source research, remote sensing, and high-resolution commercial satellite imagery to identify and monitor cultural heritage sites that are threatened by armed conflict or natural disaster. Cultural heritage sites include, but are not limited to, archaeological sites, monuments, memorials, places of worship, museums, archives, libraries, cultural centers, and cemeteries. CHML maintains a geospatial database of over 28,000 Ukrainian cultural heritage sites, including sites in eastern Ukraine and Crimea. CHML's Ukraine database was developed in April 2021 and has been used to monitor conflict-related impacts to Ukrainian sites since February 2022. This report is the third in a series of confirmed impact reports. The data presented here represent confirmations made by CHML analysts between 1 September 2022 and 31 January 2023, and do not necessarily represent impacts that occurred between 1 September 2022 and 31 January 2023. All impacts occurred from 24 February 2022 onwards.
Definitions
Lead: A lead designates an unconfirmed, open-source report that a cultural heritage site has been damaged. It serves as a starting place for further investigation rather than a confirmation of damage. Common leads include social media posts, single-source interviews, and unconfirmed news reports. Leads are used as tips for queuing further investigation via satellite imagery (i.e., "tip and queue").
Potential Impact: A potential impact designates a cultural heritage site that is located close to remotely-sensed kinetic activity (see below for a discussion of CHML's use of NASA FIRMS) and may have sustained damage as a result of that kinetic activity. Like leads, potential impacts are used as tips for queuing further investigation via satellite imagery (i.e., "tip and queue").
Confirmed Impact: Leads and potential impacts are re-classified as confirmed impacts when additional, independent strands of intelligence provide evidence that sites have indeed been impacted. Most impacts are confirmed through the identification of damage in satellite imagery; however, a small number of confirmations are made based on multi-sourced news and social media reports.
Methodology
CHML maintains a database of over 28,000 Ukrainian cultural heritage sites, including sites in eastern Ukraine and Crimea. This Ukrainian cultural heritage site database was derived in part from a scrape of open-source data (OpenStreetMap). Although new sites are regularly added to the dataset, there are some notable omissions, including municipal buildings that are also historic structures and Soviet-era monuments that were recently removed by the Ukrainian government (e.g., the "Monument to the Founders of Odesa," which was dismantled on 28 December 2022). The categories of cultural heritage sites included in the database were taken from the Cultural Heritage Site List (CHSL) data standards, which were developed by the Penn Cultural Heritage Center (PennCHC) at the University of Pennsylvania Museum with National Science Foundation funding (Grant #1439549).
Monitoring of sites in the database occurs every ~48 hours, during which time remote fires sensing data released by NASA FIRMS is pulled and overlaid on the inventory GIS layer. Sites that overlap with FIRMS "hot spots" are then classified as potential impacts. CHML analysts review commercial satellite imagery of each newly classified potential impact to identify whether it has visible signs of site/structure damage. Potential impacts with visible site/structure damage are then reclassified as confirmed impacts. There is a time lag inherent in the confirmation process due to satellite periodicity, but this lag is a matter of hours or days, meaning that CHML can report confirmed impacts within 72 hours of a kinetic event.
Research via open-source outlets (i.e., social and news media) provides additional information about sites that are marked as potential impacts, as well as leads about sites that are not marked as potential impacts. Leads are geolocated so that they can be queued for confirmation via commercial satellite imagery analysis. In cases where leads document damage to a site that is not visible in commercial satellite imagery, sites usually remain unconfirmed. However, in a small number of cases, such as Russia's seizure of Potemkin's remains and other antiquities from Kherson, confirmations are made based on a combination of multi-sourced news, social media reports, and Russian reporting. The conservative nature of CHML's approach means that confirmations should be taken as a minimum number of confirmed impacts.
Operational Security Note
Highly detailed and precisely geolocated cultural heritage site data are not included in this study for operational security purposes. However, abstracted and aggregated analyses have value to show broad trends and categories.
Key Findings with Heat Map Visualization and Tables
This streamlined confirmed impact report presents data generated between 01 September 2022 and January 31 2023. Data presented in this report have compositional and distributional similarities to data presented in CHML's previous confirmed impact reports (here and here). Cultural heritage sites that are commonly found in urban areas (e.g., places of worship, art centers, museums, libraries, and memorials) continue to sustain the most observed damage. This trend will likely persist as civilian infrastructure continues to be targeted. As noted in previous reports, there are inherent resolution problems in the satellite imagery confirmation process. CHML's confirmed impacts likely overrepresent larger sites and structures and underrepresent smaller sites with less visible footprints, such as memorials and monuments. Additional confirmation methods must be used to determine if damage has occurred to these small-footprint sites.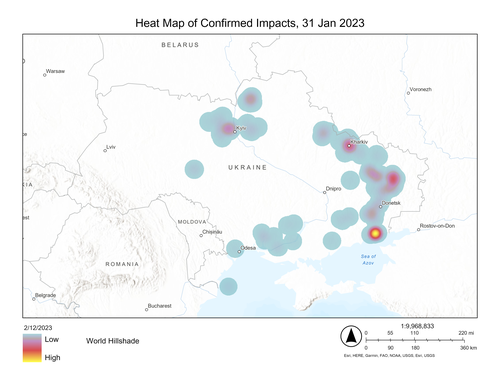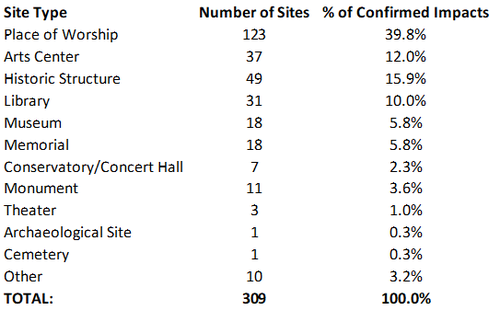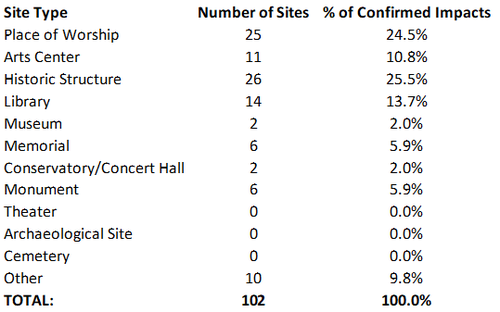 ---
Look Ahead
This report is the third in a series of confirmed impact analyses, detailing confirmed impacts from 1 September 2022 through 31 January 2023. CHML will continue to monitor cultural heritage impacts throughout the country from direct, indirect, and post-conflict response activities. The next report will expand upon this report.
Things to Watch
Follow-up Ukraine report coming soon....
Future work on heritage sites in Djibouti
---
---