Overview
In contrast to high carbon-emitting Belt and Road Initiative (BRI) energy projects in other countries, China has supported renewable and sustainable projects in Cuba. What sets the "Green BRI" in Cuba apart from the rest of the region?
BRI energy projects have focused on renewables in Cuba due to the country's legislation, directives, and availability of natural resources. China's role has been in providing capital and technology as China often is willing to take risks despite economic uncertainty created by the ongoing U.S. economic embargo. We assess the focus on sustainable development in Cuba is a reflection of Cuba's domestic circumstances, not necessarily the implementation of China's Green BRI.
---
Activity
This Tearline article uses open-source data collection and imagery analysis to study the impacts of Chinese development financing in Central America and the Caribbean. The article uses the Chinese financing of sustainable energy projects in Cuba as a case study, analyzing why energy projects have been sustainable in Cuba and evaluating whether the projects are successful. Of the six projects examined, imagery reveals that three were finished on time, while the other three are significantly delayed. Media portrayals and/or official press related to Cuban BRI projects downplay or do not acknowledge problems related to construction. Thus, our assessment of the health of Cuban BRI projects is based primarily on imagery analysis.
In May 2017, China announced its 2013 Belt and Road Initiative (BRI) would prioritize sustainable development and environmental protection, designating a new focus - Green BRI. The word "green" refers to renewable energy sources with low carbon emissions. According to the Belt and Road Ecological and Environmental Cooperation Plan, all BRI investments will promote the goals outlined in the Paris Climate Agreement and the United Nations' Sustainable Development Goals. The implementation strategy of a more sustainable investment plan has largely been carried out through multilateral coalitions, like the UN-led BRI International Green Development Coalition. While this coalition has brought credibility to China's well-publicized goal of a Green BRI, it is largely an expansion of rhetoric and not actual implementation of investment projects with sustainable intentions.
The implementation of the Green BRI is essential because Chinese investment in renewable energy could help improve energy security and transform energy sectors to favor low-carbon emitting sources in recipient countries where these projects are implemented.1 Increased investment from the BRI often increases a country's industrial capacity, therefore increasing the need for energy. In these situations, energy projects are designed to fit a recipient country's need for energy. If the easiest, cheapest, and fastest way to meet this need for energy is through fossil fuels, the rhetoric of the Green BRI is often ignored.2 These decisions have a significant impact as investing in high-carbon emitting fuel sources locks an area into non-renewable energy for an extended period of time.3
In Central America and the Caribbean, there has been a mix of Chinese renewable and non-renewable energy projects, as visible in the graph below, with the majority occurring after the debut of the Green BRI in May 2017. We draw insights from a literature review on sustainable energy in the BRI at the macro level to supplement the limited available information and public documentation on specific energy projects in the Central American and Caribbean region. For more details on each project included in the below graph, explore our excel100+ Projectsstructured data.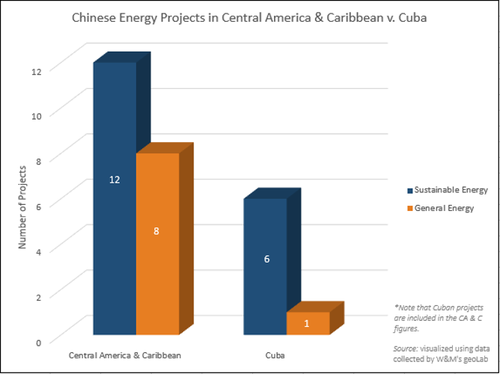 In a 2018 study, Boston University Global Development Policy Center and World Resources Institute found that approximately 75% of BRI investment from China's state-owned banks between 2014 and 2017 were for fossil fuel projects. Most energy and transportation projects reviewed were linked to carbon-intensive sectors. While the study only briefly overlapped with the Green BRI, it was the first paper to identify that the Green BRI has largely been limited to theory, not practice. This conclusion has been supported by other large studies, noting that the BRI must take concrete steps to change its high-carbon financing practices.4 As China has domestically instituted stricter emission standards, Chinese companies have sought alternative markets which has led to an increase in exports of low-efficiency coal technology via the BRI.5 China appears to be supporting this high-emissions development abroad, as China itself moves towards a more sustainable, service-based economy.6
Likewise, we found that in most countries in Central America and the Caribbean the majority of BRI energy projects were non-renewable. The main outlier is Cuba. In contrast to the general literature on China's non-compliance with the stated goals of the Green BRI, our data shows that six Chinese-financed energy projects in Cuba, visible on the map below, are all renewable and low-carbon emitting sources. The seventh is a nation-wide sale of energy-efficient refrigerators which occurred before the official start of the BRI. We explore why the BRI has followed its stated goals on sustainability in Cuba better than anywhere else in the region. We find that the extent to which the BRI is sustainable in Cuba is a product of the local context and conditions. In Cuba, there is regulation on renewable energy, a wealth of available resources, and a lack of available foreign capital. Fulfilling the latter gap is China's primary role.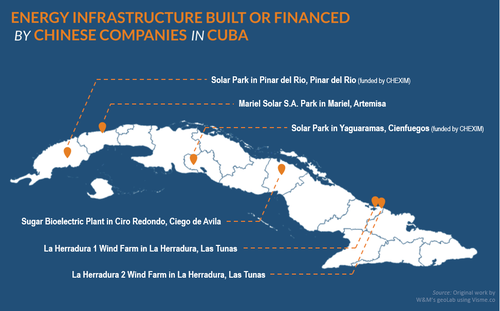 Cuba's Dream of Renewable Energy
In 2014, Cuba's Renewable Energy Development Program announced that Cuba would raise clean energy output from its current level of 4% to 24% by 2030 through solar power, bioelectric plants, and wind farms. For Cuba to achieve this goal, its installed capacity would reach up to 2 gigawatts and would require capital investment of approximately $3.5 billion USD.7 If Cuba can meet this goal, the country would save $780 million USD annually, a significant amount for a country that currently spends approximately 14% of its GDP on energy. However, approximately 82% of energy sources are currently from fossil fuels; 65% of which are imported.8 Achieving this 2030 goal could mean reducing pollution in the country, providing energy security through a diversification of sources, and increasing the sustainability and reliability of the nation's economy.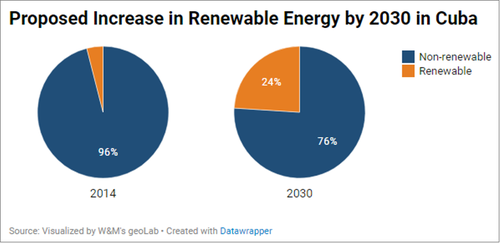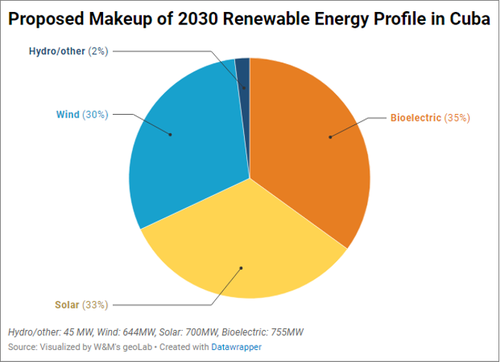 To achieve the 2030 renewable energy goal, Cuba must significantly decrease its reliance on imported fossil fuels. Cuba's quest for energy independence started decades before the Green BRI. Prior to the 1991 collapse of the USSR, Cuba received 90% of its fuel at discounted rates from the USSR.9 Without Soviet energy support, Cuba experienced economic downturns and regular blackouts throughout the 1990s.10 In this context, Fidel Castro began Cuba's investment in environmental sustainability and renewable energy with his 1992 speech at the UN Rio Earth Summit.
Economic hardships in the 1990s were exacerbated by the extensive U.S. sanctions. The U.S. embargo of Cuba began on February 7th, 1961, shortly before the April 1961 Bay of Pigs invasion and October 1962 Cuban Missile Crisis. Throughout the Cold War, the United States targeted Cuba for its close alliance with the Soviet Union and its own communist regime. In 1982, Cuba was placed on the U.S. Department of State's list of states sponsoring international terrorism for the nation's support of armed insurgencies and terrorist activities in Latin America. After the fall of the Soviet Union, the Cuban Democracy Act of 1992 and the Cuban Liberty and Democratic Solidarity Act of 1996 both strengthened U.S. sanctions against Cuba. Both acts made clear that the embargo would remain in place until Cuba transitioned to a free market electoral democracy with an emphasis on human rights as another important factor. The impact of the embargo is heavily disputed, however, the embargo has clearly had a significant economic impact on Cuba's economy. The United Nations has been one of the biggest critiques of the embargo, claiming that Cuba has lost $130 billion in revenue since 1961 as a result. Starting in 2011, for the first time since the 1959 Cuban revolution, Castro's government implemented institutional and market-oriented reforms and Castro announced plans to step down as President in 2018. In reaction to these reforms, the United States restored diplomatic relations, removed Cuba from the state sponsors of international terrorism list, and began easing economic sanctions.
On October 30th, 2000, Cuba and Venezuela signed a series of bilateral agreements in which Venezuela agreed to sell crude oil at a fixed reduced price for medical expertise, education, and technology from Cuba. Venezuela consistently supplied around 60% of the oil Cuba required for energy generation, until 2016 when oil shipments began to slow down due to political strife in Venezuela.11 Coinciding with and in reaction to Venezuela's political strife, starting in June 2017, the United States imposed stricter sanctions specifically targeting Cuba's sources of revenue. In November 2018, U.S. National Security Advisor Ambassador John Bolton said that "the Venezuela's regime repression is of course enabled by the Cuban dictatorship." A January 2020 statement by the US Department of State announced that "the United States will cut off Cuba's remaining sources of revenue in response to its intervention in Venezuela." With Venezuela unable to support Cuba to the same extent and this new wave of sanctions, Cuba has been plagued by shortages and most grocery stores have bare shelves. To avoid blackouts, Cuba has enacted strict energy restrictions, including limiting the use of air conditioning.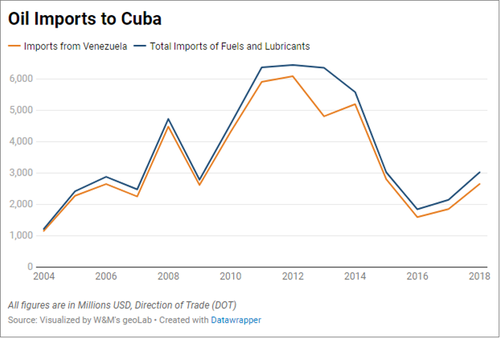 In 2006, Cuba began the Energy Revolution [La Revolucion Energetica], which focused on increasing the efficiency of appliances and modernizing the energy system. Fidel Castro expressed the desire to "do away with the rustic kitchen." Under Castro's directive, the Government of Cuba purchased 300,000 energy efficient refrigerators from the Chinese company Haier Group Corporation. Nine years before the Belt and Road Initiative began, China began aiding Cuba's renewable energy sector. Since its conception, Cuba's Energy Revolution has been dependent on Chinese technology and capital. The energy revolution was complemented by legislation on efficiency requirements for appliances and a progressive electricity tariff that taxed large electricity users.
Cuba's Resources and Plan, but China's Investment
Cuba's natural resources set positive conditions for harvesting renewable energy. The Caribbean island has an average solar irradiance of 5.4 kWh/m2/day (3.5 kWh/m2/day is classified as good potential), an average wind speed of 5.7 m/s, and a robust sugarcane industry for bioenergy.12 Forty percent of Cuba's electricity is transported through a decentralized electricity grid, making it the second-most decentralized energy grid in the world after Denmark.13 A decentralized grid is advantageous for renewable energy sources because renewable energy sources are generally more localized and produce smaller amounts of energy, in contrast to high-carbon emitting sources.14 Additionally, decentralization increases the resiliency of the grid against natural disasters such as hurricanes, because a loss of power impacts a smaller portion of the grid.
While renewable energy has been prioritized by the Cuban government and Cuba's natural resources make it possible, it is Chinese investment that kickstarts and enables these projects. Cuba and China established diplomatic relations in 1960; but due to Sino-Soviet tensions, China's investments and diplomatic relations with Cuba have significantly increased in the past 15 years. China has largely served as a political and economic partner, investing in infrastructure through the BRI and trading Chinese-made consumer goods. China's economic aid and investments, including over $6 billion USD in debt forgiven, have allowed Cuba to expand its renewable energy sector.
In 2016, the Export-Import Bank of China and the Ministry of Commerce of China financed solar parks located in Pinar del Rio and Yaguaramas. The projects were constructed by EDIFRE, Cuba's state-owned engineering company. All electricity generated will be sold to Union Electrica de Cuba (UNE), Cuba's state-owned electrical company, at a predetermined fixed rate. As can be seen in the imagery below, both projects were completed on schedule, located in open uncontested spaces, and nearby existing energy infrastructure. In Yaguaramas, above-ground installation of rail mounts for the solar panels was visible in early 2017. A year later, all necessary components of the park, including the panels and means of connecting them to the power grid, seemed completed. In Pinar del Rio, the new solar park was built adjacent to an existing park, but no clear site for connection to the power grid is visible.
As of completion in February 2018, the solar parks had a total capacity of producing 9 megawatts of energy annually from approximately 35,000 solar panels. All electricity generated by the Pinar del Rio and Yaguaramas solar parks is aimed at benefiting local Cuban communities, but all profits go to the Chinese financiers who own 100% of both projects. Both of these BRI solar parks are operational and fulfill objectives outlined by the Cuban and Chinese governments with the 2014 renewable energy initiative and Green BRI.
These Chinese solar parks were completed with the incentives of Cuban Decree-Law 345, which allows individuals and companies in Cuba to sell their own electricity that they generate back to the grid. This encourages individuals and companies to invest in solar energy for their own buildings. In Cuba, the rhetoric of renewable energy has moved from official government laws to individuals' daily lives. This grassroots support of sustainability is largely because energy insecurity disproportionately impacts smaller communities. If Cuba remains reliant on imported oil, towns all over the country will experience blackouts.15 Thus, local communities have supported the BRI renewable energy projects.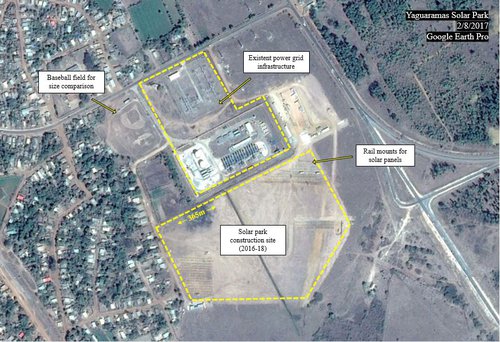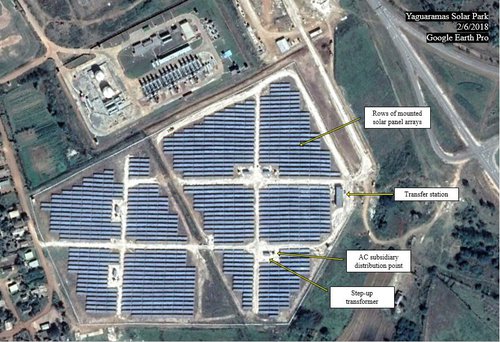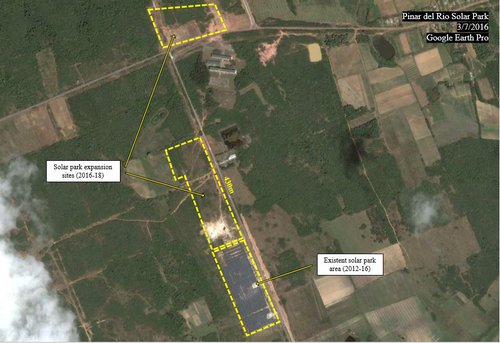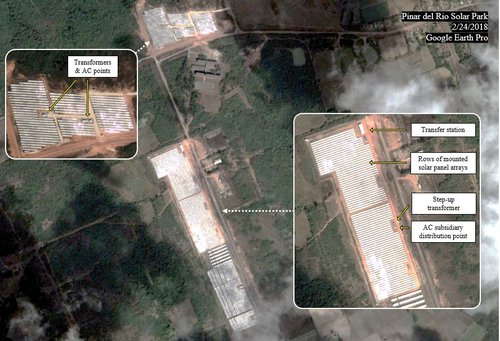 Cuba's sugarcane industry has brought significant capital to the island over centuries. Turning bagasse, the byproduct of sugarcane, into energy diversifies energy sources and sugarcane usages, while additionally adding value to the production. The Ciro Redondo Sugar Bioelectric Plant is a joint Chinese-Cuban venture agreed to in May 2017, coinciding with the beginning of the Green BRI. The plant is funded by Shanghai Electric, a privately-owned Chinese company (not a state-owned enterprise), and implemented by the joint venture Shanghai Biopower Energy, which is a combination of Shanghai Electric, Havana Energy (a British-Chinese company), and Azcuba (a Cuban state-owned enterprise). Zheng Jianhua, the CEO and Chairman of Shanghai Electric, announced in a statement that Shanghai Electric would extend the global reach of the company as a "response to the Belt and Road Initiative," thus, supporting and contributing to the BRI. The incorporation of private companies in the BRI has been promoted by China's National Development and Reform Commission since early 2017 and there have been multiple forums in Shanghai specifically promoting public-private partnerships along the BRI. China and Cuba split the venture 50-50. Shanghai Electric built the plant, offered loans to further finance the project, and exported the technology incorporated into the plant. The new plant includes an office building; facilities for the boiler, smoke filters, and turbines; conveyors to bring sugarcane bagasse from the mill to the plant; and a warehouse and conveyor for bagasse and marabu brought in from other sites, particularly during times outside of the sugarcane season. No delivery of biomaterials to the plant has been observed yet on imagery.
Satellite imagery and publicized information shows that the plant was completed and operational by January 2020, only a few weeks behind the initial anticipated completion date of December 2019. The plant is expected to generate 62 megawatts annually. As with the other BRI renewable energy projects in Cuba, this project was decreed and planned by the Cuban government, but reliant on Chinese technology and capital for successful implementation.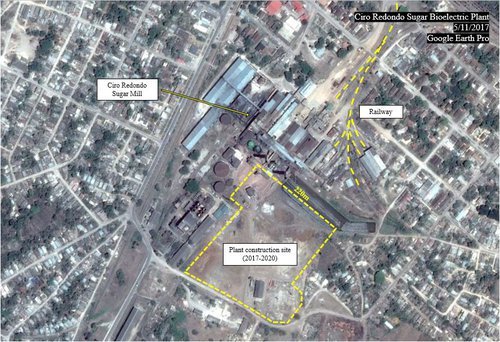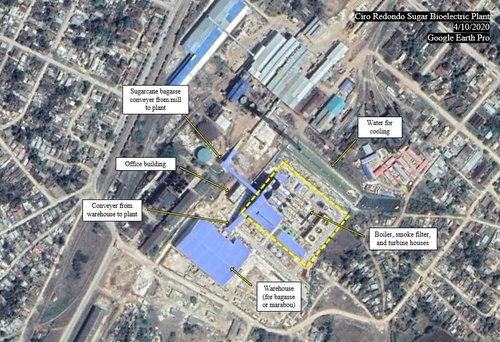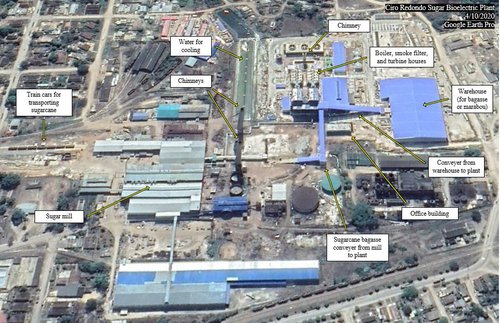 Cuba's International Context
The announcement of Cuba's 2014 energy goal was accompanied by the Foreign Investment Act, Law 118/2014. Previously, per the 1995 foreign investment law, foreign ownership of foreign-funded projects was limited to 49%.16 Now, foreign companies can own 100% of projects in the renewable energy sector and are exempt from paying taxes for at least eight years. If the company is a joint venture, taxes on profits after the eight year period are cut from 30% to 15%.17 This new act sought to attract new foreign investors to Cuba, seeking to diversify foreign relations, expand the private market that began with Raul Castro's reforms, and harness positive spillover effects from infrastructure investments. However, the island still has a severe capital scarcity issue.
Cuba's economy is complicated due to its dual currency system, where one of its currencies is not traded internationally and both currencies are considered volatile. This limits profitability of projects and increases risk of investing in Cuba. Secondly, many investors are nervous to invest in Cuba due to the threat of reciprocal US sanctions against the nation. The United States' 1992 Act stated that the US would not hesitate to apply sanctions against any country providing Cuba with financial assistance. The U.S. has already fined numerous European financial institutions for Cuba-related transactions, including Credit Agricole, BNP Paribas, and the Royal Bank of Scotland.18 More recently, the United States has sanctioned almost 200 companies involved with shipping Venezuelan oil to Cuba.
In 2016, Cuba signed preliminary deals with Spain's Gamesa for the construction of seven wind farms and Germany's Siemens for the upgrade of the power grid.19 However, neither agreement was ever finalized. In July 2017, Gamesa expressed renewed interest in participating in the projects, but financial support fizzled because of the US sanctions.20 In November 2017, the EU signed a bilateral cooperation agreement with Cuba to grant $22 million USD to support renewable energy.21 Once again, this agreement has not been finalized yet and no specific actions have occurred. Many European investors have been hesitant to sign official contracts even amid the draw of build-own-operate contracts. The U.S. embargo has been successful in convincing prospective international investors and firms to delay or cancel projects in Cuba. However, because China is outspoken against and disregards the US embargo, it has become the primary investor in Cuba and has sought to fill the capital scarcity.
Hive Energy, a UK-based company, in its joint venture with SE Investment Co., a subsidiary of Shanghai Electric, for the Mariel Solar S.A. project, has been the only successful European investor in Cuban renewable energy. Implemented in the Mariel Special Development Zone in March 2019, the projects' three utility parks are expected to generate 50 megawatts of energy. The project was initially supposed to occur without China, as Hive Energy was awarded rights to the project in May 2016 and signed an agreement with Cuba's UNE in September 2017 to sell the produced electricity at a fixed rate.22 However, construction did not begin until March 2019 because the project required more capital, which it obtained from SE Investment. Without this additional Chinese investment, the project would have been cancelled due to lack of other financing sources. Mariel construction was supposed to be completed by December 2019. The map below shows the three sites of the proposed solar parks.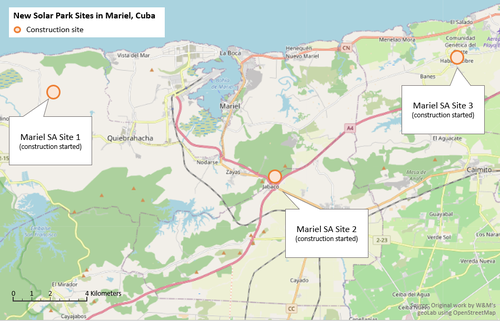 Satellite imagery shows that construction is significantly behind schedule. By the end of 2019, the anticipated completion date of all three sites, construction at Site 1 was far from finished. Above ground construction, including the installation of rail mounts and solar panels, had only just begun on the east side of the park. In the center of the park, adjacent to a local road which splits the park, is a probable power grid connection site.As of our most recent imagery in mid-April 2020, rails mounts had been constructed in the central area of the park and the foundational work was taking place for an above-ground structure in the southeast; another potential connection site. Construction at Site 2 has been only slightly better, with about two-thirds of the total solar panel arrays installed as of our most recent imagery in April 2020. Similarly, about two-thirds of the total solar panel arrays were installed at Site 3 as of mid-June 2020. Imagery from mid-July 2020 shows through heavy cloud cover minor progress in the installation of arrays along the southern edge of the park. Chinese capital may be necessary for the progression of the Cuban energy sector when other investors are unwilling, but this partially European-financed exception still misses the mark for on-time construction, as will be further discussed in the next section.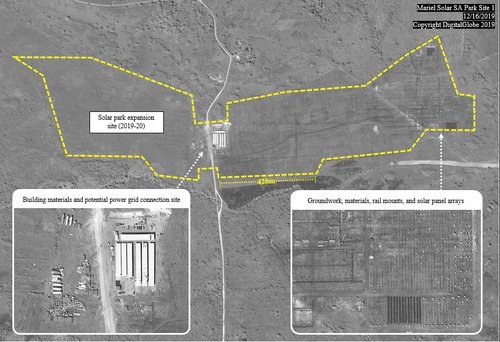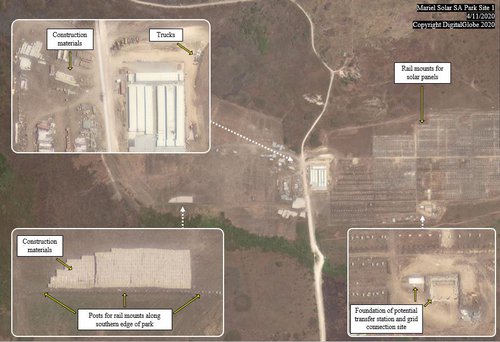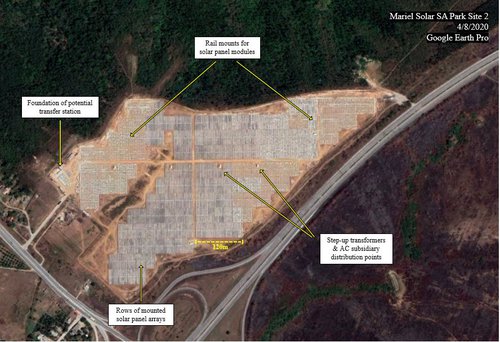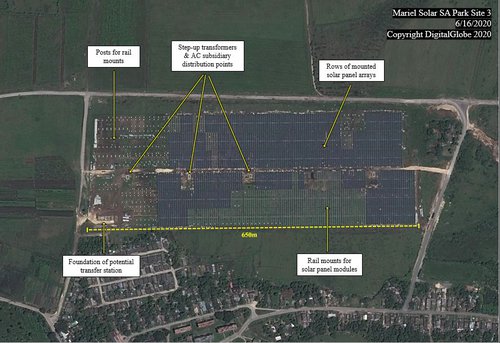 Accountability - Achilles' Heel of the BRI
In general, the project cycle in Cuba begins with a proposal by the Cuban government and a call for investors. All renewable energy projects under construction or completed have involved China's BRI directly or indirectly. As discussed in the previous section, all non-Chinese projects have been delayed and essentially cancelled due to lack of funding. However, even the projects that have secured Chinese funding (directly or indirectly incorporated into the Belt and Road Initiative) have experienced delays in half the cases to include Mariel Solar.
The La Herradura Wind Farm 1 was financed and utilizes technology designed by China's Xinjiang Goldwind Science and Technology and is being installed by Empresa de Construccion y Montaje, Cuba's state-engineering firm. The 34 Goldwind wind turbines at the farm are expected to produce 1.5 megawatts each, or 51 megawatts total, and all electricity will be sold to UNE at a predetermined rate. This investment occurred in 2013 and the project was expected to be operational by 2018. However, satellite imagery from July 2020 shows that there are no wind turbines in place. Additionally, some of the holes do not yet have wind turbine bases. Instead, the holes sit flooded with water. An incomplete site for potential connection to the power grid is in the southeast of the wind farm. Adjacent to the westernmost turbine location is a gated area which includes buildings, possibly for housing, and construction materials. Construction at La Herradura 1 has spanned over six years with no announced new completion date.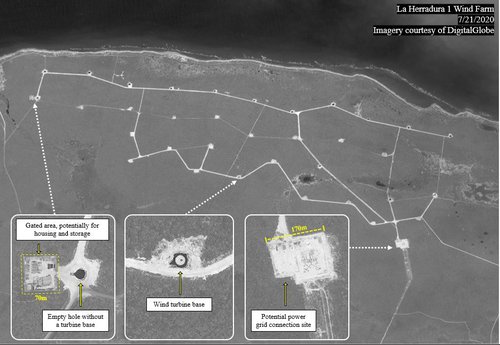 Even though La Herradura 1 has experienced construction delays and remains unfinished, China's Dongfang Electric Corp invested in a second wind farm in March 2019. Dongfang will supply 20 wind turbines which produce 2.5 megawatts each, or 50 megawatts total. The installation will also be conducted by Empresa de Construccion y Montaje and electricity will be sold to UNE. Similar to La Herradura 1, satellite imagery of La Herradura 2 shows that minimal progress has occurred since construction began in December 2018, even after the start of official investment was publicly announced in March 2019. Since construction began before the announcement, there may be a private deal connected to La Herradura 1 prior to March 2019, but public sourcing is lacking. In terms of progress, as of our most recent imagery in late May 2020, no wind turbine bases have been placed and some of the holes have yet to be dug. Eight turbine locations are not visible in our most recent imagery, but showed no progress in construction in earlier months.
China's BRI has received substantial criticism for hasty construction and a lack of resilience, as often speed has been prioritized over quality. An alternate explanation for the delays at La Herradura could be an emphasis on quality. However, this is unclear because operational wind turbines have yet to be installed at either site. Moreover, there is no textual or sourcing explanation outside of imagery for why the initial groundwork for the turbine locations at La Herradura 2 was completed before the investment was made official publicly. Among BRI projects in Cuba, the financial and construction connection timelines of La Herradura 1 and 2 stand out as especially opaque. It is most likely that the issue plaguing these projects is similar to the issues occurring at Cuba's other renewable energy projects: a lack of capital. While the La Herradura wind farms started construction with their incorporation into the BRI, they too, may be low on the capital required for the projects to become fully operational. As noted in the table and general trends above, BRI projects in Cuba often miss completion dates and fall behind projected schedules.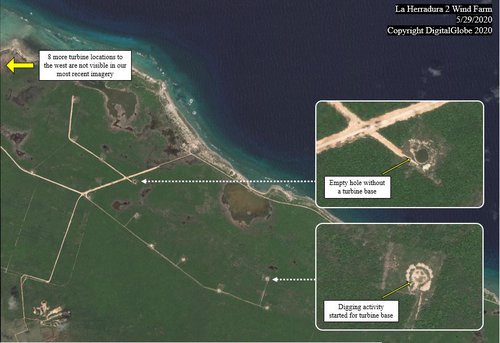 A Comparative Case Study: Panama
Similar to Cuba, Panama has a wealth of natural resources that can be harnessed for renewable energy. Both countries' national energy aspirations seek to diversify the energy sector, emphasize renewable energy, increase energy security, optimize energy efficiency, and increase energy access in rural areas.23 Panama's 2015-2050 plan aims for 70% of the natural energy mix to be renewable by 2050, thus reducing energy emissions by 60.6%. This plan reflects a global push for low-carbon emitting sources, and the domestic circumstances of a rising energy demand and a reliance on imported oil.24 Currently, all of Panama's energy production is from renewable sources. However, because there is a large gap between energy production and consumption, Panama must import non-renewable resources, such as oil. Consequently, one goal of the national energy plan is to increase Panama's energy capacity. For these reasons, Panama is a useful comparative study to Cuba. Despite some similarities between the two countries regarding natural resources and public declarations about energy modernization, the BRI in Panama has not complied with local regulations. Rather, BRI-related interests have promoted unsustainable energy sources in Panama and cancelled its only proposed energy project in line with the country's 2015-2050 National Energy Plan, the 500 kV Chiriqui Grande-Panama III Project.
Starting in February 2018, the Chinese-state owned energy conglomerate, China Electrical Power and Equipment (CEPE), discussed the terms and plans for the construction of the 500 kV Chiriqui Grande-Panama III Project. This electrical line would have doubled the transport capacity of Panama's electrical grid, thus increasing efficiency in the system and providing access to inexpensive energy in rural communities.25 It is estimated that the line would have eliminated energy loss during transport and reduced overall energy costs by over 20 million USD annually.
However, in May 2019 CEPE's plan failed to comply with Panama's "minimum mandatory requirements" and the project was dismissed. It is unclear in what way CEPE did not comply with Panama's regulations and whether this was a regulatory termination or the result of legal challenges. Despite the postponement, Panama still intends for this fourth energy line to begin operation in 2023. To accomplish this goal, Panama will have to change its regulations, compel CEPE to change its bid, or find another investor. None of these things have happened as of July 2020. This friction is a stark contrast to Cuba, where BRI energy projects followed regulations, worked with stakeholders to find the best solution, and prioritized sustainable/renewable energy projects that matched national goals. The 500 kV Chiriqui Grande-Panama III Project was the only official BRI energy project in Panama. It appears that China's more concentrated focus on renewable energy, alignment with national and local Cuban conditions, and moderate success in Cuba is unique.
Conclusion
Other studies, such as a 2018 study at Boston University, on the sustainability of BRI energy projects show a preference for high-carbon emitting energy sources and a tendency to not follow the published goals of the Green BRI. This trend of the BRI not complying with local regulations and favoring non-sustainable energy sources is visible in Panama. However, our data shows that China has supported Cuba's renewable energy initiatives financially since 2006. Following the inauguration of the BRI in 2013, China has become substantially more involved in renewable energy in Cuba. With the exception of the Mariel Solar joint venture with UK-based Hive Energy, China is the sole successful investor in Cuba's renewable energy sector. The U.S. embargo has successfully kept foreign firms out of Cuba, but it has given the BRI further opportunity to expand by restricting competition. Even before the announcement of the Green BRI in May 2017, BRI energy projects in Cuba have all been renewable and aiding Cuba's 2014 goal of 24% of energy being renewable by 2030.
BRI energy projects are sustainable in Cuba due to strict local regulation driven by Cuba's energy insecurity, which has resulted from inconsistencies in oil importation and the abundance of renewable resources. Local governments proposed each of these projects in alignment with the overarching national plan and China BRI entities bid on these proposals and financed them -- something that was only possible after the 2014 foreign investment law. The Cuban government and civil society have welcomed Chinese efforts because Cuba cannot accomplish its renewable energy goals without foreign investment and updated technology. China appears to be an investor of last resort as China is willing to risk navigating Cuba's risky business environment impacted by U.S. sanctions. If Cuba wishes to engage with other investors and limit China's growing influence, the nation must continue the market reforms Raul Castro started, continue democratic consolidation, and stop supporting regimes such as Venezuela. As long as the U.S. embargo continues, Cuba will economically struggle and the BRI will expand on the island.
It is unclear whether Cuba will achieve its goal of 24% renewable energy by 2030. But whatever does happen, it appears it will probably only occur under Cuban leadership with Chinese financial support and it will require the BRI to be more accountable on ensuring project quality and limiting construction delays.
Data Collection Methodology
The Belt-Road Initiative Geospatial & Headline Tracking (BRIGHT) Project at William & Mary's geoLab specializes in the merging of text and location-based data on official BRI projects and related non-BRI activities in Latin America and the Caribbean. The excel100+ Projectsdownloadable spreadsheet marks BRI projects as official, informal, or private Chinese money. Please also see the excelData Categorization ExplainerBRIGHT Matrix that explains our categorizations. The kmlMappable ProjectsKMZ and shpMappable ProjectsShapefiles only contain project locations which were mappable at a high level of precision, typically above the third administrative boundary level of a country. Some projects are attributed at the national level and coordinates were not used in these cases. However, all projects are listed within the spreadsheet download.
BRIGHT follows a three-step approach to the collection, geocoding, and imagery acquisition of these activities, triangulating information from open sources and imagery. Our data undergoes several rounds of quality assurance to enforce inter-coder reliability and accuracy. Through blending human and data-driven methods of data acquisition and analysis, BRIGHT seeks to form holistic narratives of Chinese engagement in Latin America and the Caribbean.
Notes
https://www.tandfonline.com/doi/full/10.1080/20964129.2020.1747947
https://www.csis.org/analysis/chinese-multilateralism-and-promise-green-belt-and-road
https://www.nrdc.org/experts/han-chen/greener-power-projects-belt-road-initiative-bri#
https://www.csis.org/analysis/chinese-multilateralism-and-promise-green-belt-and-road ; https://www.aei.org/research-products/report/be-wary-of-spending-on-the-belt-and-road/ ;https://www.csis.org/analysis/greening-or-greenwashing-belt-and-road-initiative ;https://www.bu.edu/gdp/files/2018/11/GDP-and-WRI-BRI-MovingtheGreenbelt.pdf
https://www.eesi.org/articles/view/exploring-the-environmental-repercussions-of-chinas-belt-and-road-initiativ ; https://www.reuters.com/article/us-china-renewables-silkroad/china-belt-and-road-power-investments-surge-from-2014-2019-study-idUSKCN1UP093
https://e360.yale.edu/features/how-chinas-big-overseas-initiative-threatens-climate-progress
https://www.renewableenergyworld.com/2017/02/10/power-shift-in-cuba-seven-reasons-to-watch-the-renewable-energy-sector-in-the-post-fidel-and-trump-era/#gref
https://www.brookings.edu/research/sustainable-development-the-path-to-economic-growth-in-cuba/
https://www.edf.org/sites/default/files/cuban-electric-grid.pdf
https://www.edf.org/sites/default/files/cuban-electric-grid.pdf
https://www.reuters.com/article/us-venezuela-cuba-oil-exclusive-idUSKBN19Y183
https://www.renewableenergyworld.com/2017/02/10/power-shift-in-cuba-seven-reasons-to-watch-the-renewable-energy-sector-in-the-post-fidel-and-trump-era/#gref
https://www.edf.org/sites/default/files/cuban-electric-grid.pdf
https://www.brookings.edu/research/sustainable-development-the-path-to-economic-growth-in-cuba/
https://dialogochino.net/en/trade-investment/31432-china-cubas-latest-benefactor/
https://www.renewableenergyworld.com/2017/02/10/power-shift-in-cuba-seven-reasons-to-watch-the-renewable-energy-sector-in-the-post-fidel-and-trump-era/#gref
Financing Renewable Energy in Cuba (pdf)
https://www.cubastandard.com/wp-content/uploads/2017/08/July-2017-content-preview.pdf
https://www.reuters.com/article/us-cuba-energy/lack-of-cash-clouds-cubas-green-energy-outlook-idUSKBN1720EB
https://www.cubastandard.com/wp-content/uploads/2017/08/July-2017-content-preview.pdf
Financing Renewable Energy in Cuba (pdf)
https://www.renewableenergyworld.com/2018/01/23/uk-s-hive-energy-aims-to-open-cuba-s-first-fully-foreign-owned-solar-park/#gref
https://www.iflr1000.com/NewsAndAnalysis/Panamas-National-Energy-Plan-Diversifying-the-energy-matrix/Index/5486
https://www.irena.org/-/media/Files/IRENA/Agency/Publication/2018/May/IRENA_RRA_Panama_2018_En.pdf
https://www.panamatoday.com/panama/panama-will-tender-500kv-electric-project-first-quarter-2019-8679
Jan 01, 2020

Ciro Redondo Sugar Bioelectric Plant Construction Completed

---

Mar 01, 2019

Construction Begins on Mariel Solar S.A.

---

Mar 01, 2019

La Herradura 2 Agreement Signed

---

Feb 01, 2018

Yaguaramas and Pinar del Rio Solar Parks Construction Completed

---

May 01, 2017

"Green" Belt and Road Initiative gets Emphasized

---

May 01, 2017

Ciro Redondo Sugar Bioelectric Plant Agreement Signed

---

Nov 04, 2016

Paris Climate Agreement Launches

---

Aug 01, 2016

Yaguaramas and Pinar del Rio Solar Parks Agreement Signed

---

Jan 01, 2015

United Nation's Sustainable Development Goals

---

Mar 01, 2014

Cuba's Foreign Investment Act, Law 118/2014

---

Jan 01, 2014

Cuba's Renewable Energy Development Program

The program says Cuba's goal is to raise clean energy output from its current level of 4% to 24% by 2030.

---

Dec 31, 2013

La Herradura 1 Agreement Signed

---

Sep 07, 2013

Belt and Road Initiative Launches

---

Mar 01, 2006

Cuba Purchases 300,000 Energy Efficient Refrigerators from Haier

---

Jan 01, 2006

Cuba's La Revolución Energética

---

Jun 14, 1992

Fidel Castro's 1992 Speech at the U.N. Rio Earth Summit

---
---
Look Ahead
Please download the structured data in the Data Sources section. We plan to supplement the downloadable structured data with an interactive visualization later in 2020. We will update this report when this is ready.
Things to Watch
Part 2 of the energy series, where we will detail the shortcomings of the Green BRI
Whether Cuba stays on track to meet its 24% renewable energy by 2030 goal
The completion of the discussed energy projects in Cuba
Release of version 1.0 of the BRIGHT interactive visualization
---
---